BSB: three friends, three geniuses, three works of art…
Publishing date 6/01/2014
BSB Three Valencian Friends is an exposition hosted by the Valencia Town Hall, which is focused on the figures of Benlliure, Sorolla and Blasco Ibáñez. If you are interested in genius, come and discover the life and works of three men, three artists and three geniuses who were, above all, friends.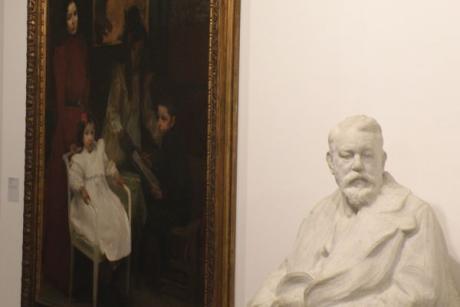 This year is the 150th anniversary of the birth of painter Joaquín Sorolla, and, among other activities held for this historic celebration, the Valencia Town Hall has created the BSB Tres Amigos exposition, which you can visit in the municipal exposition hall until March 30th. The display is a homage to Sorolla, highlighting his essential valencian-ness by adding two other famous Valencian artists to this illustrious painter: Mariano Benlliure and Vicente Blasco Ibáñez. Benlliure, Sorolla and Blasco Ibáñez were contemporaries and friends, and they both left their native city relatively early to carry out their lives and works; and, after a long life of travelling and producing art, they all wished to be buried in Valencia.


Furthermore, BSB Tres Amigos Valencianos includes works by other artists, such as Playa de Malvarrosa, by Ignacio Pinazo, Paisaje de Paterna by Fillol, the portrait of Blasco Ibáñez by José Antonio Benlliure, the portrait of Sorolla by Manuel Benedito, the silver hand of Sorolla by Manuel Benedito, and three works by Michavila, José Luis Checa, Peppino Benlliure or Ramón de Soto.


Furthermore, the display includes letters, objects, photographs, newspapers, editions of books such as Cañas y barro, Flor de Mayo, La Barraca, Entre Naranjos, Sónnica la cortesana and Los cuatro jinetes del Apocalipsis.


Furthermore, the exposition also includes other curios such as a psocart sent by Sorolla to Mariano Benlliure from Seville in November 1910, a bronze and brass incense burner that belonged to Mariano Benlliure and a sculpted bust of the duchess of Alba as a child: Portrait of Cayetana Fitz-James Stuart de Silva, made by Mariano Benlliure in 1928.


Nevertheless, the masterpiece in the exposition is Mi familia, a beautiful painting by Sorolla with a clear influence of Velazquez, a group portrait with a chiaroscuro light effect that contrasts with the Valencian master's usuall effect. A varied chromatic range: white for the daughters, Elena and María Clotilde, black for Joaquín, the painter's only male child, dark red for Clotilde in the foreground and looking at the spectator. And, in the background, in dark and golden tones, the artist, reflected in a mirror. Amazing!