Big Fair of Valencia: let's celebrate summer is here!
Publishing date 29/06/2017
Music, theatre, dance, fire, colour… The Big Fair of Valencia is coming to town and the city bursts in joy! Join in this centenarian fair which each summer goes a little bit further with streets, squares, beaches and neighborhoods crowded.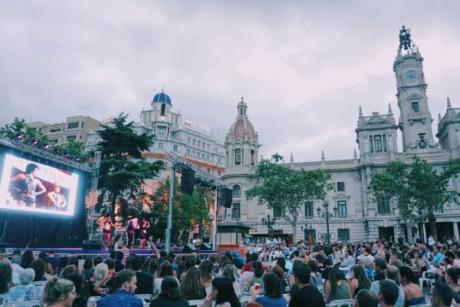 The dream of a summer night could be well summarize in the Big Fair of Valencia. And it is so, because it has all one longs for: music, theatre, cinema, pyrotechnics, parades, magic, shows, workshops, dance, dinners, comedy, party, championships, battle of flowers… Catch your breath and I will follow explaining you all what is waiting for you.

Without gunpowder everything is senseless here. A big musical firework spectacle in The Marine and Els Focs of The Fira are appointments not to be missed. Shows where the rhythm, the light, the colors, the music and the firework effects over the water of the sea in some surroundings like no other will leave us open-mouthed.

The main course of the Fair is the Concerts de Viveros. The musical programme is heterogeneous and varied, concerts will take place in the Gardens de Viveros, and the list of participants is made up with national, international and Valencian artists of different styles. This year, we will be able to watch Michael Nyman, Love of Lesbian, Manel, Leiva, Ploughs Malikian and many others. Give a look to the programme and move around in sustainable transport!

Will you dare with the game of cards The Fallera Calavera? You will meet a lot of characters and traditional facts of the history and culture of Region Valencia.
If you still have some energy left, escape to the beaches of Valencia to cool you down, dive into the river Turia and lie down on the grass, visit the City of the Arts and the Sciences and most of all, taste our exquisite dishes which have the flavor of the Mediterranean.