The best rock and surfing reaches Valencia with Surforama
Publishing date 12/05/2014
The Surforama surfing and rock'n roll festival, one of the foremost Spanish festivals in the genre, returns to Espai Rambleta in Valencia with a competitive and promising programme. Hang on to your surfboard, giant waves will come crashing in this weekend! Come and listen to the most wicked music for rock addicts and surfers, don't miss it!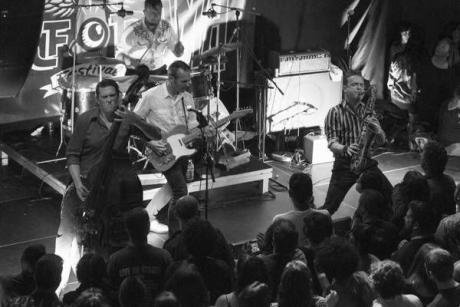 Bands from Japan, the United States, Sweden, Mexico or Belgium meet up at Valencia to participate in the Surforama Festival on May 16 and 17. Surf and rock'n roll, movies, food, cocktails, flea markets... everything for everyone.
Participants include The Untamed Youth, the first band of the great Deke Dickerson, as well as Jackie&The Cedrics, the best Japanese Surf&Roll band in the last 25 years. Furthermore, John Blair, a pioneer of the Surf revival who founded the legendary Jon & The Nightriders will be visiting Spain for the first time, as well as the Belgian Fifty Foot Combo, who will be celebrating their twentieth anniversary here.

Another participant is The Dragtones, a super-band founded by members of The Hives, The Barbwires, The Hi-Winders or Louis and The Wildfires, and which are pure Hot Rod R'n'R dynamite, as are the Mexican Twin Tones, an instrumental cavalcade with the best Spaghetti Western band. The damp sounds of surfing reach northern Spain with Los Derrumbes and Marcos Sendarrubias, one of the best voices in local rockabilly.
The Japanese-American band Sidemeat, the revolutionary Superflamingo and incredible DJs such as Deke Dickerson, Johnny Bartlett, Diego R.J., Moonwolf, Sr. Varo, David Nebot complete the programme of Surforama.