Be dazzled by the Valencia's Sistine Chapel, the Church of St. Nicholas
Publishing date 16/03/2016
Get caught by the powerful visual impact caused all the frescos in the church of San Nicholas de Valencia finally have been finally restored and get caught by the enthusiasm and social reception of the work done by the Hortensia Herrero Foundation.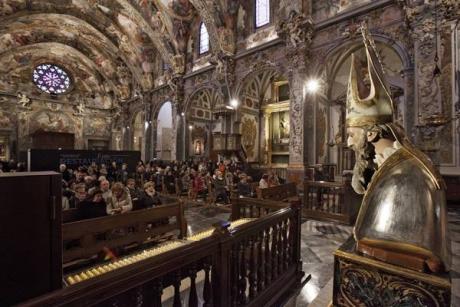 The Church of San Nicholas of Bari and 'San Pedro Mártir', popularly known simply as Saint Nicholas, was erected as a parish around 1242, and since the origins of the city, a Roman-Hispanic temple which later on became a mosque with the Muslim conquest and moreover a Christian church in the 13th century after Jaume I's conquest in 1238. That is why along with other parishes of Valencia, the Church of 'San Nicolás Verona', is one of 12 parishes reconquered, belonging to the city of Valencia after the Restoration of the Diocese which ended under the command of a Christian king.


This very church is the sum of two basic styles: the Gothic style of mid-fifteenth century, with the construction impelled by Alfonso de Borja (future Pope Callistus III) and Baroque style, which prevails in the interior decoration but also reflected in the way the church is relined from the outside. This style belongs to the renovation conducted by the architect Juan Bautista Pérez Castiel and in which Antonio Palomino and Dionís Vidal participated, as tracista and architect, of the vault paintings. The dome, which covers the temple with one nave, tells the life and main miracles of the patron saints of the parish, noted from any part of the church. Also frescos and plasterwork cover the entire interior, from small pilasters in chapels, creating a visual and color spectacle for anyone who visits the temple.


This Valencian parish is also the oldest in the city, one that still preserves folk traditions and devotion associated to it, such as the famous "Walking on St. Nicholas" or Devotion to St. Jude Thaddeus, patron of lost causes; the chapel in the Church receives hundreds of visitors on Mondays of each week.


Do not miss the opportunity to fall in love with this Baroque jewel and with the paintings that surround it and come to visit it during opening hours.