Alert in Valencia: an army of smörfs erupts in the city
Publishing date 24/02/2014
After passing through New York, Berlin, Los Angeles, Sydney and Zurich, a number of strange, marble creatures known as smörfs has invaded Valencia. These white beings stroll through the former riverbed of the Turia, exploring and inspecting the surroundings all the way up to the San Pío V museum of fine arts, finishing their visit in the shops in the city centre. Courtesy of the Eclosión en Valencia 2014 (Eclosion in Valencia 2014) exposition, you can see smörfs in Valencia up to April 1st.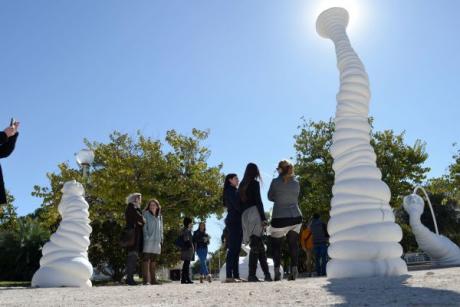 The Fondo Arte-AS space has developed Eclosión en Valencia 2014 by Venske&Spänle in a part of the city of Valencia. In this unique project, over 70 marble sculptures are placed at different spots in Valencia. The sculptures, created by Julia Venske and Gregor Spänle, are organic shapes sculpted in marble that endure through time, have their own history, evolve and expand throughout the world. These creatures exist in a parallel universe, but they co-exist with humans and often interact with the everyday objects they encounter. They are abstract, living entities with a character and personality of their own, visiting different locations, from fairs to expositions and public places, gardens, industrial areas, populating the planet.

Eclosión en Valencia 2014 is conceived as a trail starting at the Fondo Arte-AS gallery with a composition of sculptures which, accompanied by graphic and audio-visual materials, display the current smörf population in the world.

The exposition continues in the former riverbed of the Turia, in sections 12 and 14, next to the Hemisfèric and the Palau de les Arts Reina Sofía, where a large harbour container from afar opens its doors. From there onwards, visitors will encounter these creatures in paradoxal situations: a group of smörfs having a conversation, interacting with urban elements, such as a smörf playing with a streetlight or with rubbish bins. The path of these anthropomorphic figures continues up to the San Pío V fine arts museum, where the smörfs discover Valencian Gothic painting.

Finally, the visit ends in the storefronts of eleven shops in the city centre. These include fashion shops, jewellery stores, furniture stores or restaurants in which these small sculptures with organic shapes surprise spectators, interacting with objects.

Eclosión en Valencia 2014 is the most important project by Venske&Spänle after expositions in New York, Berlin, Los Angeles, Sydney or Zurich.