Wilt en el Teatro Olympia de Valencia
Wilt, uno de los libros más salvajemente cómicos del siglo XX, juega con el estereotipo de la corrección y la cultura, ridiculizándolo.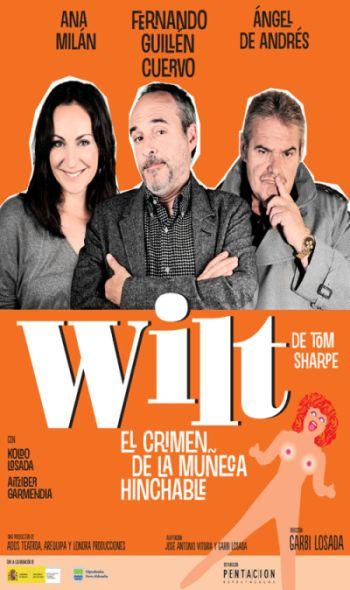 Description:
Actividades culturales
Dates:

Starts: 10/01/2013
Ends: 13/01/2013
Wilt es una novela plagada de situaciones divertidas que, a través de un humor depurado e inteligente, nos muestra que por debajo de cualquier convencionalismo late un mar de anarquía, y que cualquier realidad puede complicarse hasta cotas inimaginables. Tom Sharpe es un referente en la literatura contemporánea, y en especial en la comedia. WILT ha vendido más de 10 millones de ejemplares en 22 idiomas.
Se trata de una comedia que entrelaza elementos tan dispares como un profesor de literatura, su esposa desaparecida, una muñeca hinchable enterrada en hormigón, una delirante investigación policial y muchas otras situaciones surrealistas en una historia trepidante y divertida.

Henry Wilt es un hombre frustrado, su única válvula de escape es fantasear en lo feliz que sería se pudiera librar de Eva, su mujer.En una fiesta muy chic de unos amigos franceses se producen una serie de extraños incidentes, entre ellos la aparición de una muñeca hinchable en cuya compañía sorprenden a Henry. Al llegar a casa, borracho y avergonzado, descubre que su mujer se ha marchado dejándole una nota y un paquete con la muñeca. Wilt monta en cólera y fantaseando con que se trata de Eva la tira a una zanja.
Pero alguien le ve y avisa a la policía... El enredo está servido.
Dirección: GARBI LOSADA
Adaptación: JOSE ANTONIO VITORIA Y GARBI LOSADA
Para más información:
TEATRO OLYMPIA
San Vicente, 44
46002 Valencia
Tel. 96 351 7315

This office does not assume responsibility for sudden changes or variations of the events published on this site.