VI Master Golden Series. Copa España Juvenil RS: X en la Marina Real Juan Carlos I de Valencia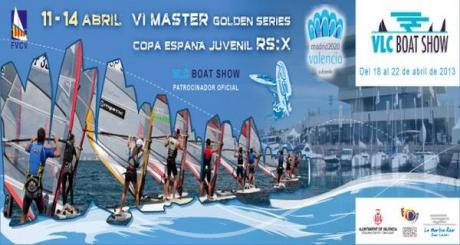 Description:
Actividades de ocio
Type: Deportes
Dates:

Starts: 18/04/2013
Ends: 22/04/2013
La exposición flotante de la ciudad de Valencia prepara una nueva edición que, además de suponer un paso más en su consolidación entre los certámenes náuticos del país, pretende ir más allá y convertirse en un gran evento empresarial, sociocultural y deportivo con un fuerte componente lúdico.
Asimismo, el certamen quedará enmarcado dentro del "Año Internacional de la Cooperación en la Esfera del Agua" que se celebra precisamente en 2013, dentro del Decenio Internacional "El agua, fuente de vida" (2005‐2015).
VLC BOAT SHOW trabaja para favorecer la comercialización de los productos y servicios expuestos en un entorno inigualable y con una oferta adecuada a los intereses de los propios expositores.
Paralelamente, VLC BOAT SHOW ofrecerá actividades en el ámbito sociocultural y deportivo con el objeto de difundir y popularizar las actividades náuticas.
VLC BOAT SHOW se ubicará en la Marina Real Juan Carlos I y concentrará su actividad en torno al edificio Veles e Vents, todo un icono arquitectónico situado a orillas del canal.
HORARIO
De 11.00 a 19.00 hrs.
Síguenos por Facebook, pinchando aquí

Para más información:
Marina Real Juan Carlos I
Oficina Marina Norte
46024 Valencia
Tel: (+34) 963 812 009
Fax: (+34) 963 814 450
E-mail: info@vlcboatshow.com
This office does not assume responsibility for sudden changes or variations of the events published on this site.