Valencia Flamenca en el Flumen
Una cita ineludibe con el flamenco en el Teatro Flumen del 9 al 12 de mayo.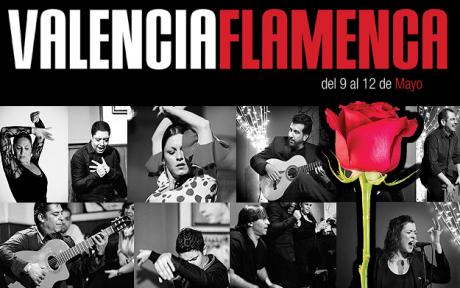 Description:
Actividades culturales
Dates:

Starts: 09/05/2013
Ends: 12/05/2013
Valencia Flamenca, nos pasea por los diferentes palos flamencos tales como taranta, farruca, alegría de Cádiz y tientos tangos. También se acercarán a la fusión Flamenco-Soul con la espléndida voz de Alba Díaz, quien con su cante ha levantado a más de uno de la butaca.
La compañía de Manuela Morales
Gaditana recientemente afincada en Valencia. Estrena su espectáculo 'Presente, pasado y futuro del flamenco' para el que ha seleccionado a los mejores músicos encontrados en esta tierra, dejando como protagonista de la historia al baile y el cante. A Manuela Morales podremos verla el jueves 9 de mayo, a las 20:30 horas.
Kallardó, Compás y Tacón
Liderada por el guitarrista Miguel de Kallardó, la compañía presentará su concierto 'A Tiempo de Bordón' permitiéndonos conocer su modo de interpretar a los maestros Camarón, Morente y Lorca, entre otros. A través del quejío de bronce de Rafael Vargas, el Chino y la voz exuberante de Alba Díaz (cuya interpretación nos lleva al soul), la compañía nos hará vivir el flamenco más racial, el viernes día 10 de mayo, a las 20:30 horas.
Saudade, Flamenco y Copla
Apadrinado por Rafa Villalba (componente del grupo Seguridad Social), Saudade presenta su disco 'Flamencopla', que nos sorprenderá con la delicada voz de la joven María Briones, nacida en el barrio de Marxalenes. Como doña Concha Piquer, a quien admira desde niña y homenajea en sus conciertos, María vive un sentimiento muy difícil de describir. Los Saudade investigan los diferentes ritmos flamencos para poder transmitirnos su esencia más innovadora. Los podremos saborear el sábado 11 de mayo, a las 23:00 horas.
Precio: desde 15 €

This office does not assume responsibility for sudden changes or variations of the events published on this site.