Usted puede ser un asesino, en el Teatro Olympia de Valencia
A beneficio de AFAV, Asociación de Familiares de Enfermos de Alzheimer de Valencia
Si te animas, te esperamos, ¡¡es por una buena causa!!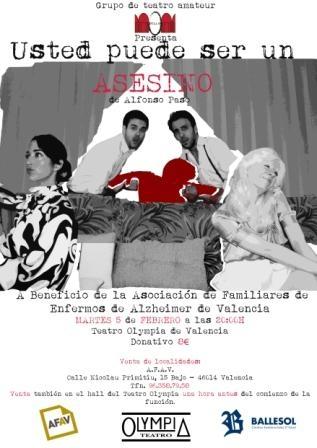 Description:
Actividades culturales
Dates:

Starts: 05/02/2013
Ends: 05/02/2013
La cita será el próximo martes 5 de febrero, en el Teatro Olympia. Una obra de teatro a beneficio de AFAV (Asociación de Familiares de Enfermos de Alzheimer de Valencia).
Obra representada por un grupo amateur que se llama "Fila cero". La obra se titula "Usted puede ser un asesino", de Alfonso Paso, y se trata de una obra cómica para pasar un rato agradable y además colaborar por una buena causa.
Sinopsis:
Margarita y Brigitte son dos amigas que se van de vacaciones dejando al frente del hogar a sus respectivos maridos Simón y Enrique. Sin embargo, éstos deciden contratar los servicios de dos prostitutas. Sus planes se ven alterados al aparecer el cadáver de Dupont, un desaprensivo que tenía intención de hacerles chantaje.
Tras sus vanos intentos de deshacerse del cuerpo y el regreso de sus esposas, aparece la policía que sostiene que Dupont fue envenenado accidentalmente con cicuta disuelta en leche, inicialmente destinada a Simón y Enrique.
Sus esposas son entonces detenidas. Al regresar a casa descubren otro cadáver, el de la anciana que se oponía al noviazgo de su sobrina Noemí, la vecina, con Julio. Cuando los protagonistas deducen que la cicuta estaba realmente destinada a la vieja, irrumpe Julio amenazando sus vidas. Finalmente, llega la policía y la situación se resuelve felizmente.

Recuerda: el martes 5 de febrero, a las 20.00 horas. Precio de la entrada, 8 euros.
Para más información:
AFAV, Asociación de Familiares de Enfermos de Alzheimer de Valencia
C/ Nicolau Primitiu, nº 15 bajo
46014 Valencia
Tlf./Fax: 963 587 958 (Horario de atención de 08.30 a 19.30 horas.)
TEATRO OLYMPIA
Calle de San Vicente Mártir, 44
46002 Valencia
Tlf.: 963 517 315
This office does not assume responsibility for sudden changes or variations of the events published on this site.