PROGRAMACIÓN PERMANENTE EN EL MUSEO DE BELLAS ARTES DE VALENCIA
El Museo de Bellas Artes de Valencia es el museo de pinturas más importante de Valencia, claro referente en cuanto a maestros antiguos, siendo por su relevancia uno de los primeros de España.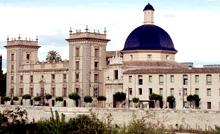 Description:
Actividades culturales
Dates:

Starts: 01/01/2012
Ends: 31/12/2013
El Colegio de San Pío V, actual Museo de Bellas Artes y sede de la Real Academia de San Carlos, fue fundado por el arzobispo Juan Tomás de Rocabertí para formación de sacerdotes. Proyectado por Juan Pérez Castiel en 1683, su ejecución se demoró hasta bien entrado el siglo XVIII. Está compuesto por dos partes: el colegio y el templo. El primero es de planta cuadrangular dispuesto alrededor de un claustro, y sus dos torres en la fachada que se asoma al Turia le dan un cierto aspecto de alcázar, como era frecuente entonces en los monasterios y en ciertos palacios de la ciudad. En dicha fachada destaca el almohadillado de las esquinas, en forma de puntas de diamante, los frontones alternados rectos y curvos que coronan las ventanas, las cornisas y los remates de jarrones y globos.
El templo se adosa a este rectángulo con su planta octogonal y su gran cúpula de vidriado azul, reconstruida después de haber sido derribada en 1925. Es de destacar también su fachada, obra de José Mínguez con dos pisos, pilastras en resalte y un frontón curvilíneo que la remata, todo lo cual se sitúa en el paso del barroco al neoclasicismo.
Entre 1820 y 1826 fue sede de la Beneficencia, y en 1835 pasó a depender del Estado, que lo dedicó a almacén de provisiones del ejército y, durante la Guerra Civil, a hospital militar.
Tras el conflicto pasó a albergar el Museo de Bellas Artes, que en la actualidad está en proceso de ampliación. Sus colecciones incluyen uno de los conjuntos de pintura gótica más importantes del país, y obras de Juan de Juanes, Ribera, Velázquez, Goya, Pinazo o Sorolla entre otros insignes artistas.
PROGRAMACIÓN PERMANENTE
Sala Goya
HORARIO
Lunes de 11.00 a 17.00 h.
De martes a domingo, de 10.00 a 19.00 h
Cerrrado los días 1 de enero, Viernes Santo y 25 de diciembre
Entrada gratuita
Para más información:
MUSEO DE BELLAS ARTES SAN PÍO V
C/ San Pío V, 9
46010 Valencia
Teléfono: 963 87 03 00
This office does not assume responsibility for sudden changes or variations of the events published on this site.