Prehistoria y Cine en el Museo de Prehistoria de Valencia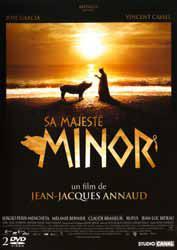 Description:
Actividades culturales
Dates:

Starts: 19/09/2012
Ends: 31/05/2013
Exposición "Cine y Prehistoria" en el Museo de Prehistoria de Valencia. Se trata de un proyecto expositivo del Museo de Prehistoria de Valencia y de Darqueo. Estudio y difusión del Patrimonio S.L. La exposición ha contado con la colaboración del IVAC (Institut valencià de l'audiovisual i la cinematografia Ricardo Muñoz Suay), del Institut Français de Valencia y de la Filmoteca Española.
La Prehistoria es uno de los períodos menos representados en el cine de ficción. En el caso del Paleolítico tres ejemplos paradigmáticos, basados en novelas, han trabajado la reconstrucción histórica con más ambición: En busca del fuego, El clan del oso cavernario y Ao, le dernier néandertal. Del Neolítico y la Edad de los metales destaca un largometraje reciente con tintes mitológicos, ambientado en una isla griega: Su Majestad Minor.
Esta exposición pretende dar a conocer las producciones audiovisuales de ficción reflexionando sobre las ideas que han transmitido a la sociedad, mostrando cuáles son los conocimientos que actualmente se tienen sobre los aspectos más relevantes de la Prehistoria y cómo se reproducen las ideas sobre este período en el imaginario colectivo, ejemplificado en el cine.
El eje central de la exposición es la relación entre el conocimiento de la Prehistoria y el cine de ficción, y su discurso está organizado para dar respuesta a las siguientes preguntas: ¿Cómo podemos comprender este mundo de luces y sombras? ¿Cómo nos representamos el pasado? ¿Quiénes somos, cómo somos, dónde vivimos y qué hacemos los humanos? ¿Cómo se reconstruye una historia en el pasado?

Entrada gratuita
HORARIO
De martes a domingo de 10.00 a 20.00 horas.
Para más información:
Museo de Prehistoria - Centro Cultural La Beneficiencia
Calle de la Corona, 36
46003 Valencia

963 883 565 / Visitas: 963 883 579
This office does not assume responsibility for sudden changes or variations of the events published on this site.