Picasso. Fauno. Centauro. Minotauro en el Centro Cultural Bancaja de Valencia
Los días 18, 19, y 29 de marzo y los días 1 y 8 de abril, las salas de exposiciones estarán abiertas al público.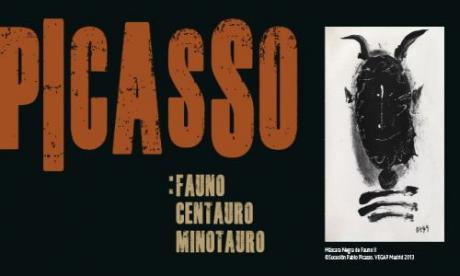 Description:
Actividades culturales
Dates:

Starts: 15/02/2013
Ends: 04/05/2013
Fundación Bancaja presenta la exposición Picasso. Fauno. Centauro. Minotauro, una nueva propuesta cultural que se podrá visitar en el Centro Cultural Bancaja de Valencia hasta el 4 de enero de 2014, coincidiendo con el 40 aniversario del fallecimiento del artista. La muestra reúne una selección de 50 grabados del pintor malagueño procedentes, en su mayoría, de los fondos de la Colección Bancaja, junto a obras cedidas por la Fundación Picasso. Museo Casa Natal del Ayuntamiento de Málaga y la Biblioteca Nacional de España.
Comisariada por Juan Carrete, doctor en Historia por la Universidad Complutense de Madrid y profesor tutor de Historia del Arte de la Universidad Nacional de Educación a Distancia, la exposición ofrece un recorrido por los conceptos esenciales de la mitología clásica y por la visión que de ella tuvo Picasso, de la que se sirvió como instrumento para comunicar sus propias ideas y emociones. Las figuras del fauno, el centauro y el minotauro aparecen frecuentemente en la obra del artista desde 1930 y reflejan la dualidad que existe en todos los hombres, incluido el propio Picasso.
Además, la vertiente didáctica y social esta también presente en la exposición a través de talleres dirigidos a escolares, personas mayores y personas con discapacidad.
HORARIO
De lunes a sábado, de 10.00 a 14.00 y de 17.00 a 21.00 horas.
Entrada solidaria a beneficio de la campaña Solidarios con mucho arte.
Visitas guiadas
Junto a esto, se realizarán visitas guiadas, de carácter gratuito, todos los martes a las 17 y a las 18 horas, para grupos de un máximo de 25 personas. El teléfono de información y reservas para estas visitas es el 902 33 66 44.
Para más información:
Centro Cultural Bancaja
Plaza de Tetuán, 23
46003 Valencia
This office does not assume responsibility for sudden changes or variations of the events published on this site.