Pastora en la Sala Wah Wah
Los polifacéticos Pastora vuelven a girar por los escenarios con su último trabajo, Una altra galàxia, el 2 de febrero del Wah Wah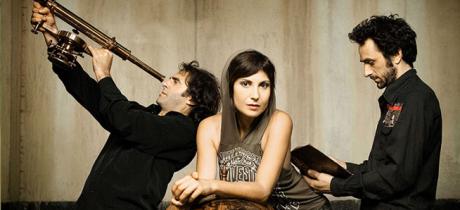 Description:
Actividades culturales
Dates:

Starts: 02/02/2013
Ends: 02/02/2013
Pastora, grupo musical originario de Barcelona, formado por Dolo Beltrán (vocalista y compositora), Caïm Riba (músico) y Pauet Riba (encargado del aspecto visual). Hasta la fecha (2011), han publicado cuatro álbumes de estudio (Pastora, La vida moderna, Circuitos de lujo y Un viaje en noria (U.V.E.N.)) así como un álbum de remixes (Pastora RMX ED).
Un compendio de temas en catalán en el que la banda continúa con su estilo personal y único, una fusión de electrónica, pop y rock. Una mezcla perfecta que brilla con luz propia en los escenarios.
El 29 de mayo de 2012, Pastora publicó en formato digital su nuevo álbum Una altra galàxia, con 12 canciones cantadas en catalán. El trío formado por Dolo Beltrán, Caïm Riba y Pauet ha reunido diez temas nunca incluidos en sus discos (los otros dos pertenecen a sus álbumes La Vida Moderna y Un Viaje En Noria) para demostrar que, por encima de idiomas, su música continúa siendo una de las más imaginativas, creativas e inspiradas del pop de la última década.
En catalán, como en castellano, Pastora continúa siendo diferente. Una altra galàxia es una nueva demostración de la personalidad y altura musical de Pastora, uno de los grupos capitales para comprender la evolución del mejor pop español del nuevo siglo con una trayectoria ejemplar dentro de la escena contemporánea española.
Todos los temas llevan impreso el sello Pastora, una marca registrada que engloba de manera personalísima estilos como la electrónica, el rock y el pop, siempre con la voz y las letras inteligentes y atípicas de Dolo Beltrán y el excelente trabajo de Caïm Riba sosteniendo las canciones con la producción, los arreglos y demás tareas musicales.
Pastora, capaz de dar a cada canción lo que necesita, utilizando con imaginación todos los elementos a su alcance, sin sobrecargarlas, con la tensión y la sutileza necesarias en cada momento, mezclando sonidos electrónicos y acústicos, el ordenador y el micrófono, la tecnología y el aliento humano.
Hora:22.30 h.
Precio: 12 €
Venta de entradas: Atrapalo.com
Lugar: Sala Wah Wah
C/Ramón Campoamor, 52
Teléfono: 963 563 942
This office does not assume responsibility for sudden changes or variations of the events published on this site.