Mercadillos Artesanales
Algunos rincones de Valencia donde encontrar regalos artesanales de calidad.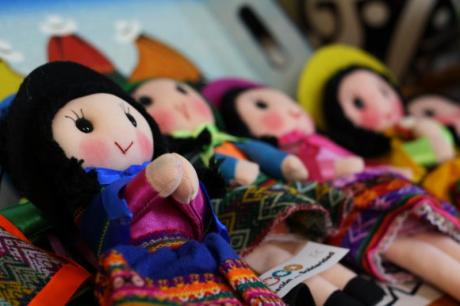 Description:
Actividades de ocio
Type: Navidad
Dates:

Starts: 06/12/2014
Ends: 06/01/2015
Address:
Diversos lugares de Valencia
City: Valencia
Feria de Reyes (Pl. Reina, 28/11-6/1)
arteval.es
Junto a la catedral y el Miguelete se instalarán 27 expositores de artesanos profesionales con productos de elaboración propia.
La Fireta (Galería Jorge Juan, 6 y 7/12)
lafiretadevalencia.blogspot.com.es
Ana y Eva organizan una vez al año esta pequeña feria independiente de cositas hechas a mano donde diseñadores y creadores exponen, venden y promocionan piezas y objetos hechos con cariño y cuidado.
Mercadillo Vintage & Handmade (Rivendel, 14/12 11-20h.)
rivendelrestobar.com
Un espacio gratuito donde artesanos, second hand sellers, coleccionistas, diseñadores e ilustradores de la ciudad ponen a la venta sus creaciones. Vintage Lights, con su increíble selección de bombillas, cables y lámparas retro; Juan Montañana Fotografía antigua, con su colección de más de 100 cámaras de fotos, proyectores y focos; joyas de origami, creaciones 100% artesanales sobre soportes tradicionales valencianos, un puesto de fanzines valencianos, ropa retro de segunda mano, accesorios ilustrados, joyería en vidrio y mil cosas más. Además, habrá un fotomatón de ilustración donde el ilustrador que tú decidas te hará un retrato en 3 minutos por un euro.
Christmas Space Festival (Las Naves, 19-21/12)
lasnaves.com/christmas-space-festival
El Christmas Space Festival este año apunta a la Creatividad Colaborativa. El festival acogerá diferentes actividades en torno al mercadillo de diseño y de artesanía.
Noel Market de Place (Place Valencia, 19-21/12)
facebook.com/placevalencia
Una gran variedad de productos, casi todos handmade: confecciones, joyería de autor, bisutería, accesorios para gafas y decoración. Todo el que realice una compra entrará en el sorteo de una cesta con productos de los expositores.
Mostra de Navidad (Mercado de Colón, 19/12-5/1)
proaartesanos.blogspot.com.es
Los participantes, todos artesanos profesionales, ofrecen una gran variedad de productos hechos con vidrio, cerámica, madera, cuero, telas… También habrán talleres que pongan en alza el valor de la artesanía.
Mercadillo navideño (La Llimera, 20 y 21/12)
La Llimera, espacio con algunas de las propuestas contraculturales más interesantes de Valencia, también tiene mercadillo navideño. Artesanía contemporánea, artículos de segunda mano y stocks con Elvira Raimínguez Valero, Susana Balaguer Rubio, Ana Belén Dolz Quevedo, Asier Ito, Julieta Xlf, Carolina Costantini, Marz Esqueletos, Xan Tataxan, JoseSubenfriado Sanchez, Fedde Carroza, Jaume Albert, Lana Pelana, Lourdes Baines…
ho ho ho! Cristmas Market (Mercado de Tapinería, 23/12-5/1, cerrado los festivos 25/12 y 1/1)
mercadodetapineria.com
En el Mercado de Tapinería encontraréis marcas del entorno que hacen productos artesanales de alta calidad. Estarán presentes las librerías Dadá y Bartleby, junto a lámparas DIY chulísimas, chocolate artesanal, joyas jóvenes de diseño, ilustración y cerámica. Los participantes harán regalos conjuntos y packs de promociones, se realizarán talleres de confección de coronas de flores, vendrá un coro a cantar en la calle y harán la típica chocolatá.
Information compiled by:
TOURIST INFO VALENCIA - PAZ (eng)
Calle Paz, 48
46003 Valencia
Phone: 963986422
Fax: 963986421
Email: valencia@touristinfo.net
This office does not assume responsibility for sudden changes or variations of the events published on this site.