Manolo Valdés en el Almudín de Valencia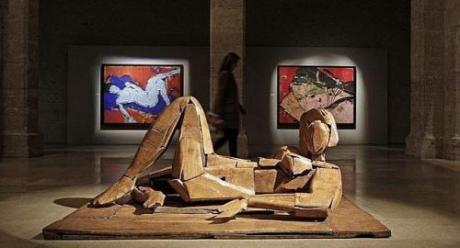 Description:
Actividades culturales
Dates:

Starts: 08/11/2012
Ends: 31/03/2013
La sala de exposiciones de El Almudín de Valencia abre una exposición de

pinturas y esculturas del artista valenciano Manolo Valdés

, algunas de las cuales nunca antes se habían mostrado al público porque pertenecen a colecciones privadas.
Bajo el título

"Manolo Valdés en las colecciones privadas"

, la exposición incluye

diecisiete cuadros y quince esculturas

.
Excepto tres piezas propiedad de la Fundación Bancaja, el resto pertenece a coleccionistas particulares valencianos y, algunas de ellas no han sido expuestas nunca, ya que han ido del taller de Manolo Valdés directamente a quien las ha comprado.
Las obras que se muestran en El Almudín fueron

creadas entre 1982 y 2007

y, según han indicado, los cuadros están elaborados sobre diferentes soportes como papel, madera, tela o arpillera, y las esculturas, son de madera, cerámica y bronce.
La exposición cuenta con lo mejor de la obra del artista, porque es lo que entrañablemente han comprado los valencianos.
Valdés, baluarte del extinguido "Equipo Crónica", a lo largo de su trayectoria, ha recurrido a los clásicos como pretexto y que ha ido incorporando a artistas más contemporáneos.
En la exposición de Valencia,

varias de las obras son algunas de las conocidas versiones escultóricas de Valdés de "Las meninas" de Velázquez

y otras como "Felipe IV", "Las tres gracias" o "Desnudo de Matisse" también toman como referentes trabajos de otros artistas.
Manolo Valdés es uno de los artistas españoles más "mediáticos", junto a Antonio López o Miquel Barceló.
HORARIO
Desde el 15 de marzo hasta el 15 de octubre:
- Martes a sábado,de 10.00 a 14.00 y de 15.00 a 19.00 hrs.
- Domingo y Festivos, de 10.00 a 15.00 hrs.
Desde el 16 de octubre hasta el 14 de marzo:
- Martes a sábado, de 10.00 a 14.00 y de 15.00 a 18.00 hrs.
- Domingo y Festivos, de 10:00 a 15:00 horas
TARIFAS
- Entrada individual: 2 euros.
- Sábados, domingos y festivos: gratuito
- BONO: 6 euros (válido por tres días).
Como llegar
· Autobús: 2-5-6-8-11-16-26-28
Para más información:
ALMUDÍN
Plaza de San Luis Bertrán, 1
46001 Valencia
Teléfono 96 352 54 78 Ext. 4521
This office does not assume responsibility for sudden changes or variations of the events published on this site.