Lifting en el Teatro Talia de Valencia
Una comedia apoyada básicamente en el humor y la empatía con el espectador.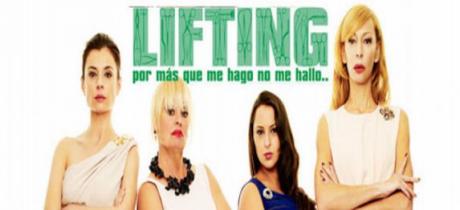 Description:
Actividades culturales
Dates:

Starts: 01/02/2013
Ends: 17/02/2013
LIFTING es un espectáculo para cuatro actrices de edad indeterminada construido a partir de piezas cortas y que girará entorno a las apariencias, concretamente a las cirugías plásticas. Cuatro mujeres que protagonizarán distintos personajes, cambiando de registro con rapidez, usando como único disfraz pelucas muy diferentes y características de los tipos que en cada momento representan. El espectáculo posee un aire cabaretero, irónico , agridulce y ferozmente crítico, además los diferentes perfiles humanos que se desarrollan precisaran de un firme trabajo actoral porque el aspecto psicológico de los personajes y la creación de los diferentes tipos es la base fundamental del espectáculo.
Las 17 escenas combinan un surrealismo sin complejos fundido a su vez con un tono natural, verosímil, mínimo y cercano. Las temáticas de las mismas componen un espectro más o menos amplio que se convierte en un despiadado y a la vez divertido retrato social: La mujer sometida a la dictadura de las apariencias, la soledad, el abandono, el miedo a la vejez, la competencia entre mujeres, las mentiras, el desamor, el autoengaño, el egoísmo, la presión y la competencia en el ámbito laboral, la locura urbana, el ritmo de una sociedad neurótica, insolidariay trepidantequelodevoratodo.
Silencios, intenciones, dobles sentidos, hablar a contrapelo, decir lo contrario de lo que el tono destila... La palabra es la esencial herramienta con la que pretendemos crear humor y reflejar verdad en esta función.
Pretendemos que Lifting sea una función que retrata desde una ironía que pertenece a nuestra forma personal de expresarnos y a nuestro modo de entender la vida: el verbo es esencial, se trata de un espectáculo basado en la palabra y como la palabra nos contradice, nos delata, nos dibuja al margen de nuestra propia intención. También no sólo lo que queda expresado en los diálogos sino sobre todo contamos con el discurso no manifiesto, lo inconsciente o subliminal.
Para más información:
TEATRO TALIA
C/ Caballeros, 31
46001 Valencia
Tlf.: 963 912 920
This office does not assume responsibility for sudden changes or variations of the events published on this site.