La Guerra del Mons 2.0
de Roberto García.
Una obra hipnótica y adictiva.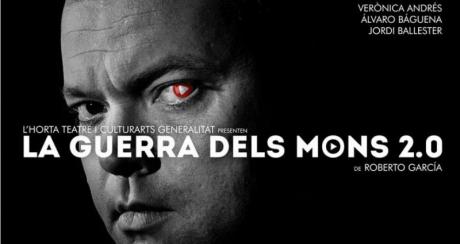 Description:
Actividades culturales
Dates:

Starts: 28/01/2016
Ends: 07/02/2016
El año 1938 Orson Welles emitió una versión radiofónica de "La guerra de los mundos". Durante el programa, millones de norteamericanos creyeron que los marcianos invadían la tierra. Fue la emisión del pánico. El primer fenómeno viral del mundo contemporáneo.
Como habría hecho Orson Welles "La guerra de los mundos" hoy día?, en la era digital, la era de Youtube, de la saturación informativa y la falsificación de nosotros mismos a través de las redes sociales?
Con una trama adictiva y una intriga creciente, "LA GUERRA de los MONS 2.0" nos sumerge en un juego de espejos perverso, como los que le gustaban a Orson Welles. Un espectáculo visualmente hipnótico y de rabiosa actualidad que nos habla de la confusión, que nos genera no saber qué es verdad y qué es mentira y del miedo como la más efectiva arma de manipulación masiva.
Horario de Taquillas:
Martes a viernes
de 11 a 13 h y de 17 a 20 h
Sábados y festivos
de 17 a 20 h
Lunes cerrada
VENTA DE ENTRADAS EN ESTE ENLACE
DETALLE DE LAS REPRESENTACIONES:
Espectáculo en Valenciano los miércoles, jueves, viernes, sábado y domingo a las 19'00 h y 20'30 h. y18'00 h.
TARIFAS: Butacas de patio, Palcos platea, Palcos Principales y Delanteras Primer piso: 18.- € Butacas primer piso y Palcos primer piso: 16.- € Delantera segundo piso: 12.- € Butacas segundo piso: 8.- €
Espectáculo co producido por CulturArts Generalitat -
Information compiled by:
TOURIST INFO VALENCIA - MARINA REAL JUAN CARLOS I
Muelle de la Aduana,S/N (junto Edificio del Reloj),
46024 Valencia
Phone: 961207745
Fax: 961207746
This office does not assume responsibility for sudden changes or variations of the events published on this site.