La Biblioteca de los Valencianos. Biblioteca de Bibliotecas en el Monasterio de San Miguel de los Reyes de Valencia
En la Sala Capitular del Monasterio de San Miguel de los Reyes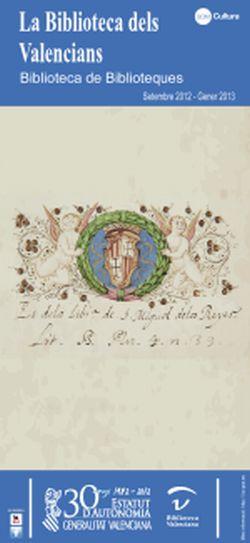 Description:
Actividades culturales
Dates:

Starts: 18/10/2012
Ends: 13/01/2013
Esta exposición pretende dar a conocer la tarea que realiza la Biblioteca Valenciana, principal centro bibliográfico de la Comunitat Valenciana: su origen, su sede, los fondos que conserva, los productos y servicios que ofrece, y las vías de adquisición de nuevos documentos de una biblioteca viva que continua ampliando sus colecciones y mejorando y actualizando sus servicios.
Entrada libre y gratuita
HORARIO
De martes a viernes, de 10.00 a 14.00 y de 17.00 a 20.00 hrs.
Sábados, Domingos y Festivos, de 11.00 a 13.30 hrs.
Visitas guiadas: la exposición dispone de visitas guiadas para:
- Grupos: jueves y viernes, previa reserva a través del siguiente formulario, con la posibilidad de hacer un taller didáctico.
- Familias y personas individuales: domingos y festivos a las 11 y a las 12 h, sin necesidad de reservar previamente y compatibles con las visitas habituales del edificio de las 12.00 y les 13.00 h.
Para más información:
Monasterio San Miguel de los Reyes
Avenida de la Constitución, 284
46019 Valencia
Tlf.: 963 874 000

This office does not assume responsibility for sudden changes or variations of the events published on this site.