La Antártida y el Ejército en el Museo Histórico Militar de Valencia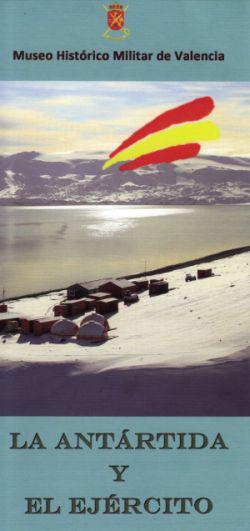 Description:
Actividades culturales
Dates:

Starts: 18/09/2012
Ends: 01/03/2013
El Museo Histórico Militar de Valencia acogerá la Exposición "La Antártida y el Ejército" que reúne 24 años de presencia militar española en el continente austral, presente y futuro, según ha indicado el Ministerio de Defensa en un comunicado.
El carácter didáctico de la exposición la hace especialmente indicada para el público escolar. La inauguración estará presidida por el Teniente General, Rafael Comas Abad, jefe del Cuartel General Terrestre de Alta Disponibilidad (CGTAD), y está previsto contar con la presencia de numerosas autoridades civiles y militares.
En 2012 se cumplen treinta años de la adhesión de España al tratado Antártico, cuyos fines principales son preservar la Antártida como una reserva de la biodiversidad que fomente la cooperación científica con fines pacíficos y con exclusión de soberanía.
Durante el verano austral, España lleva a cabo en la Antártida un conjunto de actividades de investigación científica que denominada 'Campaña Antártica', es coordinada por el Comité Polar Español. Estas actividades se desarrollan en la Base Antártica del Centro Superior de Investigaciones Científicas (CSIC) 'Juan Carlos I', en la que mantiene el ejército de tierra español en aquel continente, 'Gabriel de Castilla' y en los buques oceanográficos de la Armada Española, 'Hespérides' y 'Las Palmas'.
Desde 1988, mantener la presencia de España en el territorio Antártico, proporcionar apoyo logístico, de comunicaciones, de transporte y de seguridad a los proyectos científicos de investigación, han sido y son algunas de las principales misiones que los militares del ejército de tierra desarrollan en el continente austral.
Los principales objetivos de esta exposición, que contará con visitas guiadas a petición para grupos escolares, así como con un ciclo de conferencias que se irán anunciando, son ofrecer un mayor conocimiento del continente blanco a través de su historia, geografía, flora y fauna y, sobre todo, mostrar el valor del trabajo que llevan a cabo nuestros científicos y militares en condiciones tan adversas.
VISITAS COLECTIVAS
El número máximo de personas será de 60 (en dos grupos).
CONCERTAR CITA
Vía Mail: muhmv@et.mde.es
Vía telefónica: 961 966 215
COMO LLEGAR:
Metro: Líneas 30 y 5, Paradas Alameda y Aragón
Autobús: Líneas 1, 32, 71 y 95
HORARIO:
De martes a sábado, de 10.00 a 14.00 y de 16.00 a 20.00 hrs.
Domingos y Festivos, de 10.00 a 14.00 hrs.
Para más información:
MUSEO HISTÓRICO MILITAR DE VALENCIA
Calle del General Gil Dolz, 6
46010 Valencia
Tlf.: 963 60 16 45
This office does not assume responsibility for sudden changes or variations of the events published on this site.