Fragmentos de un Año. Fotoperiodistas de Valencia 2012 en la Sala Oberta y Claustro de La Nau de Valencia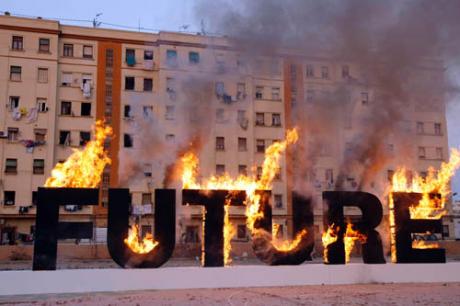 Description:
Actividades culturales
Dates:

Starts: 05/03/2013
Ends: 01/05/2013
El Centro Cultural La Nau de la Universidad de Valencia acoge este año, por tercera vez, la exposición de Fotoperiodismo Fragmentos de un año, que organiza la Unión de Periodistas Valencianos. La muestra, que recoge los hechos más destacados de los últimos meses, llega a la décima edición y ofrecerà el trabajo de 17 profesionales del periodismo gráfico en instantáneas que forman la memoria más reciente de la vida valenciana.
La Unión de Periodistas Valencianos, con esta nueva edición de Fragmentos, reafirma su compromiso tanto en la importancia del fotoperiodismo como en la liberdad de los profesionales para contar lo que pasa a nuestro alrededor. Depositar esta confianza en los espacios de una institución clave para las libertades y la libre difusión de ideas y pensamiento como es la Universidad de Valencia, se convierte en una muestra más de la volundad de continuar el trabajo de la defensa de la liberdad de expresión de una organización que afronta sus retos de cambios en la profesión periodística.
Relación de fotógrafos que participan:
Aitor Alcalde
Biel Aliño
Germán Caballero
Juan Carlos Cárdenas
Jesús Ciscar
José Cuellar
Marga Ferrer
Kai Försterling
Pablo Garrigós
Miguel Lorenzo
Eva Mañez
Irene Marsilla
Miguel Angel Montesinos
Miguel Angel Polo
José García Poveda
Alberto Saiz
Rober Solsona

This office does not assume responsibility for sudden changes or variations of the events published on this site.