Festividad de San Vicente Mártir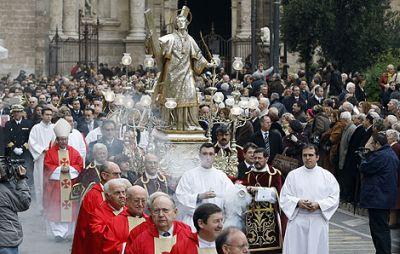 Description:
Programa de fiestas
Dates:

Starts: 21/01/2015
Ends: 24/01/2015
El 22 de enero los valencianos celebran el día de su Patrón. Vicente fue un joven diácono martirizado en Valencia en el año 304 por orden del emperador Diocleciano, que despertó gran fervor entre la población. Fue nombrado Patrón de la Ciudad y con el paso del tiempo se ampliaron los acontecimientos en honor al Mártir. Además de ser Patrón de Valencia, San Vicente Mártir es también Patrón del Gremio de Sastres y Modistas.

La mañana del 22 de enero la actuación de dolçainers precede la celebración de una misa solemne en la Parroquia de San Vicente. Al término de la misma tiene lugar una procesión general dedicada al Santo que recorre parte de los lugares donde, según la tradición, recibió martir
En esta fecha también se celebra el bautizo de San Vicente Ferrer, gran devoto de San Vicente Mártir. Dicha fiesta está organizada por la Real Asociación de la Pila Bautismal de San Vicente Ferrer y comienza cada año con la muestra de los bults de Sant Esteve. Los acompañantes van vestidos de época representando a los personajes que estuvieron en el bautizo de San Vicente Ferrer: el cura, el sacristán, dos jurados y el jurado mayor, virrey y virreina, negro y negra, padre, la comadre con el niño, la madrina y seis damas más. Últimamente se han incorporado otros personajes.
Miércoles 21
20:00 h: Misas mozárabes en la Cripta de San Vicente (plaza del Arzobispo) y en la parroquia de San Vicente Mártir (calle de la Ermita, 1).
Jueves 22
10:00 h: Bendición y reparto de los panes de San Vicente en la parroquia de Cristo Rey (San Vicente 126).
10:30 h: Misa solemne en la Catedral.
12:00 h: Misa oficiada en valenciano en la parroquia de Cristo Rey.
13:00 h: Misa en castellano y valenciano en la parroquia de San Vicente (Ermita, 1).
20:00 h: Misa en rito hispano-mozárabe oficiada en latín y castellano por Jaime Sancho.
Viernes 23
18:00 h: Celebraciones en la cripta de San Vicente con los niños de catequesis. Reparto de panes.
18:30 h: Misa en rito hispano.-mozárabe en la cárcel de San Vicente organizada por el Oratorio de San Felipe Neri.
Sábado 24
8:30 h: Ruta ecuméica de San Vicente dMártir por los lugares vicentinos
19:00 h: Oficio ecuménico "Lux in Vi" en el Convento de Santa Clara (avda Pérez Galdós, 119).
Information compiled by:
TOURIST INFO VALENCIA - PAZ (eng)
Calle Paz, 48
46003 Valencia
Phone: 963986422
Fax: 963986421
Email: valencia@touristinfo.net
This office does not assume responsibility for sudden changes or variations of the events published on this site.