Exposición : Los derechos humanos en carteles en el Instituto Francés de Valencia
En el Salón rojo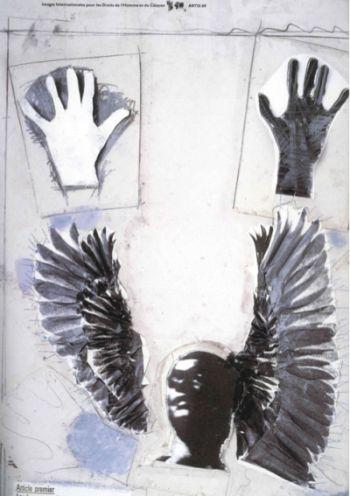 Description:
Actividades culturales
Dates:

Starts: 22/01/2013
Ends: 23/02/2013
Los diecisiete artículos de la Declaración de los Derechos de Hombre y del Ciudadano (Déclaration des Droits de l'Homme et du Citoyen) suprimen los privilegios del Antiguo Régimen y erigen la libertad como principio. Su adopción el día 26 de agosto de 1789 es una etapa esencial de la Revolución francesa.
Al promulgar la Declaración por patente real el día 3 de noviembre de 1789, Luis XVI aún no firma su sentencia de muerte sino su último real decreto. Aquel texto fundador establece las bases de la democracia en Francia, "el país de los Derechos Humanos" y constituye el apogeo del movimiento de las Luces de acuerdo con la filosofía de El Contrato social (Le Contrat social) de Rousseau.
La Declaración inspiró a otros países a lo largo del siglo XIX, de Europa y de América Latina y fue recuperada por la Convención Europea de los Derechos Humanos de 1950 antes de integrar la lista del "Registro de la Memoria del Mundo" de la Unesco hace justo diez años.
Ya han pasado más de dos siglos y no tenemos más remedio que constatar que aquella intención de los diputados de la Asamblea Nacional Constituyente sigue sin cumplirse. "Artículo 1: Los hombres nacen y permanecen libres e iguales en cuanto a sus derechos. Las distinciones civiles sólo podrán fundarse en la utilidad pública".
Artistas, grafistas y diseñadores famosos se han interesado por aquel "credo de la nueva era" (según la expresión usada por Jules Michelet) para realizar obras que ponen los derechos fundamentales en el corazón de una reflexión sobre la libertad, la paz, la justicia y el bien común. Una exposición que viene de perlas con la celebración de los trescientos años del nacimiento de Denis Diderot.
Para más información:
INSTITUTO FRANCÉS DE VALENCIA
C/ Moro Zeit, 6
46001 Valencia
Teléfono: 96.315.30.95
Fax: 96.392.06.81
e-mail: info.valencia@institutfrancais.es
Url: http://www.institutfrancais.es/valencia
This office does not assume responsibility for sudden changes or variations of the events published on this site.