Evocación del Año Nuevo Chino.
Comienza el año 4712, el Año del Caballo.
El próximo jueves, 30 de enero, se inician las festividades del Año Nuevo chino, o Fiesta de la Primavera. A las 12 de la noche comienza el año 4712 de su calendario, que corresponde con el Año del Caballo. Es un periodo de alegría, de reunión familiar y de ágapes.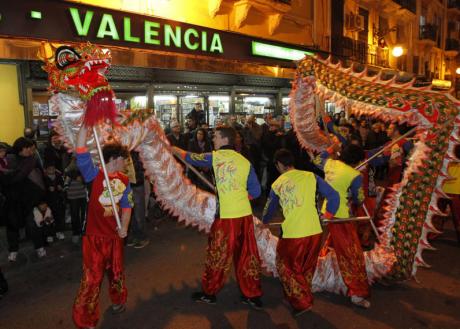 Description:
Actividades culturales
Dates:

Starts: 30/01/2014
Ends: 06/02/2014
Address:
INSTITUTO CONFUCIO DE LA UNIVERSITAT DE VALÈNCIA. Facultad de Filología, Traducción y Comunicación. Av. Blasco Ibáñez, 32
City: Valencia
Phone numbers:
Email: instituto.confucio@uv.es
PROGRAMA:
Lugar: MUSEU D'HISTÒRIA DE VALÈNCIA
miércoles, 29 de enero a las 19:00 h:
Inauguración de la exposición que evoca la festividad
Conferiencia sobre "El Año Nuevo chino: celebraciones y costumbres" a cargo de Modesto Corderi
Pregón de los actos festivos organizados por el Instituto Confucio de la Universitat de València, para los próximos días en Valencia.
Degustación de algunos de los platos típicos de la gastronomía china en estas fiestas.
La exposició que se expone en el Museu d'història de València presenta un espacio en el que se ha recreado el interior doméstico de un estudio, con elementos tradicionales en un ambiente cultural chino, y otros objetos alusivos a la festividad: pareados sobre papel rojo, farolillos cestas con comida, etc.
ENTRADA LIBRE HASTA COMPLETAR LA CAPACIDAD DE LA SALA
This office does not assume responsibility for sudden changes or variations of the events published on this site.