Del tilt al byte - MuVIM
Videojocs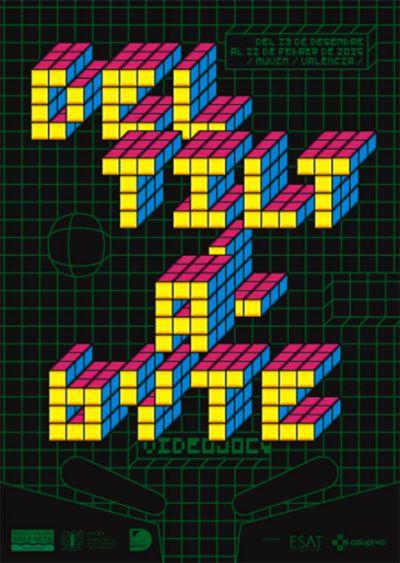 Description:
Grandes eventos
Dates:

Starts: 23/12/2014
Ends: 02/02/2015
Los videojuegos son actualmente una de las prácticas culturales más extendidas. En sus diversos soportes, Arcades, videoconsolas, smartphones, tablets, monitores, son hoy elementos cotidianos, compañeros desde la infancia de las nuevas generaciones. Transcendiendo edades y géneros constituyen una novedosa e inédita forma de experiencia social
Como en todo juego, en que la diversión es esencial, los jugadores son los que disfrutan de la relación con la máquina, que les transporta a mundos imaginados, que les transforma en otros, que les hace proyectarse en mundos programados.
En 1962, aparece Spacewar considerado el primer videojuego. Desde entonces en multitud de estudios de todo el mundo, un sinfín de creadores han producido y creado juegos con propuestas que abarcan todo los ámbitos, buscando el puro entretenimiento, sirviendo como transmisores de mensajes, difundiendo datos.
Tras los videojuegos también existe una industria tan potente que su volumen de negocio supera el de la música y el del cine.
A menudo, los videojuegos son considerados de manera ligera, cuando no acusados de todos los males: pérdida de referentes, confusión entre lo real y lo representado, incitación a la violencia, introspección y aislamiento. Otros, en cambio, apuestan por el videojuego como una nueva forma de socialización, como en el caso de las comunidades creativas, también como una forma de transmitir información, de participación en su búsqueda. El debate esta presente en el mundo académico.
En la exposición, recorreremos los orígenes del juego, la aparición de los juegos mecánicos y electromecánicos que conformaran los precedentes de los videojuegos. En un principio, juegos de habilidad y destreza terminan convirtiéndose, merced a programadores, guionistas, grafistas, en complejos mundos donde todo es posible.
Más adelante, una muestra de los grandes creadores del género nacionales e internacionales, pioneros y clásicos desde los años 70.
En el siguiente apartado, presentamos una selección de las videoconsolas más representativas de las ocho generaciones en las que podemos observar los avances técnicos y de diseño
Junto a ellas, una selección de los juegos que más impacto social y estético han tenido a lo largo de estos más de cincuenta años de creatividad.
Por último una selección de los trabajos de la industria valenciana del videojuego, una de las más importantes y dinámicas de Europa.
Cabe destacar en el proyecto la colaboración especial de la ESAT, ASUPIVA y la Asociación de coleccionistas de pinballs y máquinas recreativas, así como todas las productoras valencianas participantes en el proyecto.
«Del Tilt al Byte, Videojocs» es una invitación a descubrir la diversidad y riqueza de un mundo en continua expansión, un mundo de una riqueza y creatividad desbordantes.
Information compiled by:
TOURIST INFO VALENCIA - PAZ
Calle Paz, 48
46003 Valencia
Phone: 963986422
Fax: 963986421
Email: valencia@touristinfo.net
This office does not assume responsibility for sudden changes or variations of the events published on this site.