Conciertazo Amstel Fallas. Cadena 100
Macaco y M-Clan forman el cartel de El Conciertazo Fallas 2013, el 8 de marzo.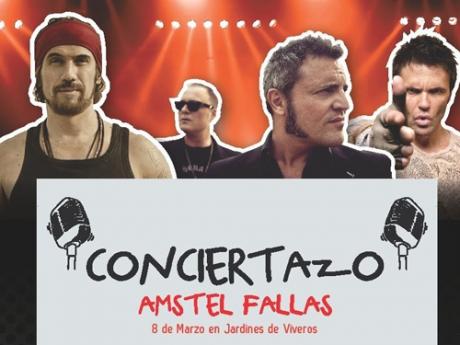 Description:
Actividades culturales
Dates:

Starts: 08/03/2013
Ends: 08/03/2013
El Conciertazo Amstel Fallas, es el pistoletazo de salida de unas celebraciones que este año arrancan el 8 de marzo con las actuaciones en Viveros.
El 8 de marzo M-Clan y Macaco actuarán en Viveros dentro de las giras de presentación de sus últimos trabajos: "Arenas movedizas" y "El murmullo del fuego", respectivamente. En sus actuaciones, repasarán sus nuevos temas y los grandes éxitos de su carrera. Tras los conciertos, seguirá la fiesta con el DJ Robert Ramírez.
El Conciertazo Amstel Fallas ya se ha convertido en un clásico de los festejos falleros y forma parte de su programa oficial. Para acceder al recinto del concierto en Viveros, será necesario presentar las invitaciones que Amstel pone a disposición de miles de valencianos, respetando el aforo de las instalaciones.
Como conseguir tu entrada: Hay distintas maneras de conseguirlas. Desde el 4 de febrero se pueden reunir las contra etiquetas de los tercios de Amstel que se sirven en bares y restaurantes. Y a partir del 18 de febrero cada persona podrá canjear 14 etiquetas por 1 invitación doble en la sede de Cadena 100 en Valencia, Pasaje Dr. Serra, 2, 5º, horario: L-V de 9 a 15h y de 16:30 a 19:30h.
Otro modo de asistir al Conciertazo Amstel Fallas es mediante los packs de producto disponibles en los hipermercados Carrefour de Valencia a partir del 25 de Febrero, donde podrán encontrar rascas con los que conseguir regalos directos e invitaciones para el 8 de marzo. Además, en el perfil de Twitter de Amstel, a partir del 25 de febrero, van a sortearse 100 invitaciones individuales para los conciertos.
Lugar: Jardines del Real-Viveros.
This office does not assume responsibility for sudden changes or variations of the events published on this site.