Colección de seis bocetos arquitectónicos del antiguo Hospital General valenciano en el MuVIM de Valencia
Situada en el pasillo de la Biblioteca del MuVIM.
A su término, pasará a instalarse en la Biblioteca Municipal en la Calle Hospital de Valencia.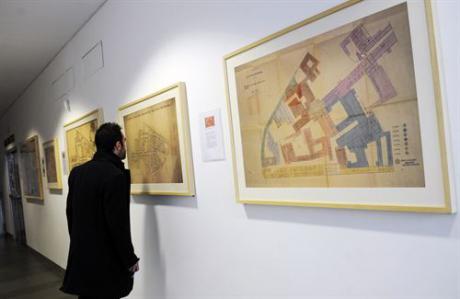 Description:
Actividades culturales
Dates:

Starts: 04/12/2012
Ends: 05/05/2013
El Museo Valenciano de la Ilustración y la Modernidad (MuVIM) exhibe temporalmente en la segunda planta de su edificio una colección de seis bocetos arquitectónicos del antiguo Hospital General valenciano, que rescatan la memoria de esta institución sanitaria.
La exposición tiene como objetivo principal ofrecer una visión histórica del recinto desde el siglo XVIII y recrear un recorrido cronológico, que se inicia con un plano de la ciudad de Valencia , y concluye con una ilustración actual del jardín del MuVIM.
El primero de los ejemplares, realizado por el Padre Tosca, en lo que se considera el primer mapa con una documentación fiable y verosímil donde se cartografía la ciudad (su centro histórico principalmente) de manera minuciosa, ofrece una visión general de la ciudad en la que se ubica el Hospital y los demás edificios valencianos, seguido de uno de mediados del siglo XVIII realizado en 1749 por el marqués de Malaespina.
Además, la muestra del MuVIM continúa con una impresión cartográfica del siglo XIX en la que se muestran las nuevas construcciones en el recinto del Hospital General con varias ampliaciones, una de ellas destinada al aprendizaje de la Medicina.
La representación del antiguo edificio finaliza con un plano de 1963, en el que se dibuja la planta baja del centro sanitario valenciano y las fases de su demolición, detalladas a través de diversos colores.
El recorrido de la muestra termina con la visión gráfica del actual jardín junto al Museo de la Diputación de Valencia y se completa con una colección de fotografías de los años veinte del artista Barberá Masip y en las que se observa el interior de los departamentos del Hospital General.
Para más información:
MuVIM
Calle de Quevedo, 10
46001 Valencia
Tlf.: 963 883 730
This office does not assume responsibility for sudden changes or variations of the events published on this site.