Clotilde de Sorolla en el Museo de Bellas Artes de Valencia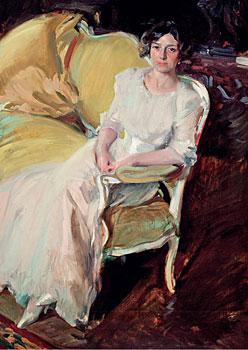 Description:
Actividades culturales
Dates:

Starts: 13/11/2012
Ends: 17/02/2013
El Museo de Bellas Artes de Valencia acoge una singular exposición dedicada a Clotilde García del Castillo (1865-1929), musa predilecta y esposa del pintor valenciano Joaquín Sorolla (1863-1923). Hija del prestigioso fotógrafo Antonio García Peris, mecenas y protector de Sorolla, Clotilde fue modelo constante en la obra del artista, de cuyas manos salieron incontables retratos y dibujos, de los cuales se exhiben un gran número en esta exposición.
La historia de amor entre Clotilde y Joaquín Sorolla comenzó en 1879, siendo ambos casi niños, y se mantuvo a lo largo de toda la vida y toda la trayectoria artística del pintor. Por ello, Clotilde es una de las mujeres más retratadas por Sorolla, y su vida puede reconstruirse mediante las pinturas y dibujos de los que es protagonista.
La muestra que ahora se presenta en el Museo de Bellas Artes de Valencia la conforman un total de 20 lienzos, 10 notas de color, 24 dibujos y 38 fotografías. De los 20 lienzos que se exponen 18 son fondos del Museo Sorolla de Madrid, uno ha sido cedido para la muestra por una colección particular y uno ha sido prestado por el Museo de Bellas Artes de Valencia.
Estructurada en cuatro ámbitos temáticos, y a la vez cronológicos, la exposición se inicia con el dedicado a la intimidad, y en él se tratan los primeros años del matrimonio, el nacimiento de sus hijos, la vida familiar. En esa época Sorolla todavía no era un artista de fama internacional, y su casa y su familia eran los motivos constantes de inspiración de unas pinturas en las que Clotilde aparece leyendo, durmiendo, en la playa, paseando o jugando con sus hijos.
El segundo apartado profundiza en el papel de Clotilde como musa y modelo predilecta de Sorolla en numerosos retratos formales, en los que Clotilde posó como ella misma, y en otros en los que lo hizo como modelo anónima, como en un desnudo femenino que, según los estudios, pertenece a la esposa del pintor.
A lo largo de su vida en común, Clotilde tuvo que adaptarse también al éxito alcanzado por Sorolla. Desde 1900 tuvo que asumir el papel de esposa de hombre famoso y facilitar su trabajo. Como mujer de un artista reconocido internacionalmente, hace en esa época una vida más social y acompaña a su marido en viajes y veraneos en lugares de moda. Numerosas fotos y un amplio epistolario entre ambos ilustran ese apartado, "La mujer del artista".
La muerte de Sorolla en 1923 tras una traumática agonía de la que Clotilde nunca se repuso, ocupa el último espacio de la exposición, en el que se refleja con documentos y recortes de prensa cómo ella fue la artífice del legado al Estado de la casa y la obra de Sorolla y de la apertura del actual Museo Sorolla.
Entrada gratuita
Como llegar:
· Autobuses
Líneas 1, 6, 11, 16, 26, 28, 29, 36, 79 y 95
· Metro
Estaciones de Alameda y Pont de Fusta
· Valenbisi
Estación nº 131 Alboraya - Flora, estación nº 83 General Elio - Llano del Real y estación nº 5 Plaza Poeta Llorente
HORARIO
Lunes, de 11.00 a 17.00 hrs.
De martes a domingo, de 10.00 a 19.00 hrs.
Cerrado los días 1 de enero, Viernes Santo y 25 de diciembre
Para más información:
Museo de Bellas Artes de Valencia
C/ San Pio V, 9
46010 Valencia
Tel. 963 870 300
museobellasartesvalencia@gva.es
This office does not assume responsibility for sudden changes or variations of the events published on this site.