Carrera Pas Ras al Puerto de Valencia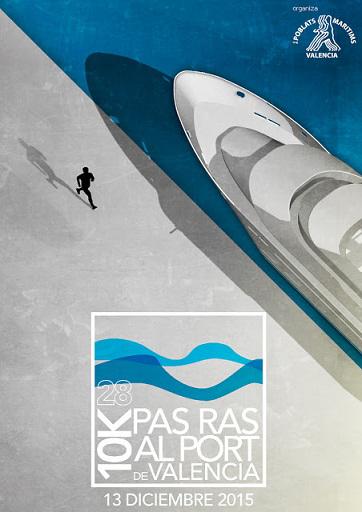 Description:
Actividades de ocio
Type: Deportes
Dates:

Starts: 13/12/2015
Ends: 13/12/2015
Un año más los Poblados Marítimos organizan el Pas Ras por el marco inmejorable de la Marina Real Juan Carlos I.
El Pas Ras al Port de Valencia está organizado por el Club de Atletismo Poblats Marítims y cuenta con el respaldo de Divina Pastora Seguros, la entidad de referencia en la expansión del atletismo popular, con más de 800 carreras patrocinadas por toda la geografía española.
Pas Ras al Port de València es una carrera de 10.000m y que recorre lo más emblemático del Puerto de Valencia y el Paseo Marítimo de la ciudad. El recorrido es de 10.000m, siendo la SALIDA junto al parking de la antigua terminal del Puerto de Valencia.
El recorrido es de 10.000m, siendo la SALIDA junto al parking de la antigua terminal del Puerto de Valencia, los corredores recorrerán un circuito por delante de los boxes, tingaldos nº 4 y 5 hasta el final y dando la vuelta por detrás de los mismos, pasando pegados al mar por la zona de la dársena de los tinglados nº 2 y por la zona del circuito de la Formula 1 hasta llegar a la zona de la entrada por aduana, realizando la rotonda para salir de la Marina Real por la zona del edificio Docks y acceder por ahí al paseo marítimo.
A continuación recorrerán en línea recta todo el paseo hasta el final salida por la depuradora a la calle por la zona de los autobuses.
Una vez dejado el paseo marítimo y salida a la calle buscarán la C/Mendizábal, y darán la vuelta a la manzana girando por la calle Pintor Vidal Corella, c/Enginer Manuel Maese, C/Pintor Joan Genovés y regreso a la C/Mendizábal esta vez en sentido contrario y regreso a la rotonda de los autobuses, donde esta vez los corredores se meterán por el carril bus en dirección hacia la Marina real.
Al llegar a la zona de la rotonda de las velas acceden a la calle Eugenia Vinyes en sentido de circulación hasta llegar a la rotonda del edificio de Docks y de nuevo acceso a la Marina Real, para recorrer el mismo recorrido de salida pero en sentido inverso.
Al llegar a la zona de la lonja y volverán por los Tinglados hasta la Meta situada en el mismo punto de la salida.
Information compiled by:
TOURIST INFO VALENCIA - PAZ (eng)
Calle Paz, 48
46003 Valencia
Phone: 963986422
Fax: 963986421
Email: valencia@touristinfo.net
This office does not assume responsibility for sudden changes or variations of the events published on this site.