Balls al Carrer en la Plaza de la Virgen de Valencia
Este festejo consigue potenciar y mantener viva la tradición y cultura valenciana
Una gran exhibición de cultura popular que da la bienvenida al 2013 con más ganas que nunca.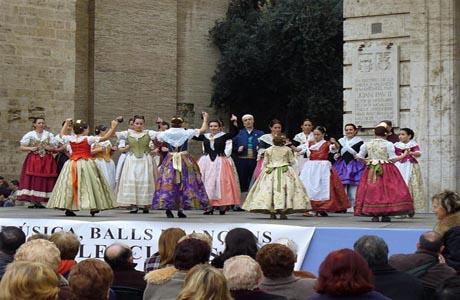 Description:
Actividades culturales
Dates:

Starts: 27/01/2013
Ends: 30/09/2013
Los bailes y la música más tradicional de nuestras tierras regresan de nuevo para llenar la Plaza de la Virgen de alegría, movimiento y colorido. Una gran exhibición de cultura popular que comienza en este nuevo año con más fuerza y ganas que nunca. Casi tres horas de espectáculo con el que los visitantes y vecinos de Valencia conocieron algo más de la cultura popular valenciana. Muchas de las comisiones participantes llevan más de 20 años asistiendo a este acto.
La primera cita es el domingo 27 de enero a las 11:00 horas, y en los domingos siguientes del mes de febrero se sucederán las exhibiciones. Son 35 grupos falleros los que participan en los Balls al Carrer, según el siguiente programa:
Domingo 27 de enero
Comisiones Obispo Amigó, Joaquin Costa-Conde Altea, Daroca Padre Viñas, Ceramista Ros.
Domingo 3 de febrero
Comisiones Industria-Santos Justo y Pastor, Barrio de La Luz, Molinell-Alboraia, Progress Teatre.
Domingo 10 de febrero
Comisiones Islas Canarias-Dama de Elche, Padre Alegre-Enrique Navarro, Ausias March, Na Rovella, Berni i Català.
Domingo 17 de febrero
Comisiones Vicente Sancho Tello-Chile, Cª San Luis-Rafael Albiñana, Barrio San José, Escola de Tabal JCF.
Como llegar a la Plaza de la Virgen
Bus: Líneas: 4, 6, 8, 9, 11, 16, 28, 36, 70, 71, N2, N10
Metro: Parada Xàtiva, Líneas 3 y 5
Valenbisi: Estación 4 (Plaza de la Virgen/Bailía)

Para más información:
Junta Central Fallera
Tel: 963 521 730
Correo electrónico: jcfallera@valencia.es
This office does not assume responsibility for sudden changes or variations of the events published on this site.