Arxiu, tresor de la memòria en el Palacio de Cervelló de Valencia
Exposición permanente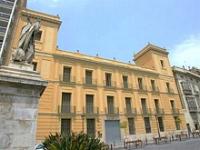 Description:
Actividades culturales
Dates:

Starts: 01/01/2012
Ends: 31/12/2014
La muestra "Arxiu, tresor de la memoria" recoge una selección de los documentos más emblemáticos del Archivo Histórico Municipal, entre los que se encuentran el Privilegio de Jaime I por el que se creó el archivo en el año 1239, el Acta Municipal dictada para el control de los archivos, que data de 1729, y el último reglamento por el cual se regula el funcionamiento de éstos, del año 1923.
Además de los citados libros, expuestos junto a las maquetas de los distintos edificios en los que ha estado ubicado el archivo, se exhiben documentos de las tres épocas fundamentales del archivo municipal: la foral, la borbónica y la constitucional.
En la zona dedicada a la época foral se muestran ejemplares como "Manuals de Consells" y un "Llibre d'Administració de Murs i Valls". En el área dedicada a la época borbónica se encuentran libros capitulares o documentos mercantiles, y en el espacio destinado a la época constitucional se expone el acta de 1936 en el que aparece Balbina Guillermina Aranda, primera mujer concejal, y un mapa del Plan Sur, entre otros documentos.
En otra sala de esta exposición, ambientada en el Salón Columnario de La Lonja, se rinde homenaje al comercio medieval valenciano y, entre los elementos expuestos se encuentran el "Còdex del Consolat" y la "Taula de Canvis", sobre la que se ejecutaban los cambios y depósitos monetarios.
Por último, se ha habilitado una sala interactiva en la que se han dispuesto tres paneles para consultar el material gráfico del Archivo, así como la restauración de este material y el tratamiento que recibe desde que ingresa hasta que pasa a formar parte de sus fondos.
Enlace a HORARIO ESPECIAL DE SEMANA SANTA
HORARIO ESPECIAL NAVIDAD 2012-2013
Domingo 23 de diciembre: de 10:00 a 14:00 y de 15:00 a 18:00 h.
Lunes 24 de diciembre: de 10:00 a 14:00 h.
Martes 25 de diciembre: cerrado
Domingo 30 de diciembre: de 10:00 a 14:00 y de 15:00 a 18:00 h.
Lunes 31 de diciembre: de 10:00 a 14:00 h.
Martes 1 de enero 2013: cerrado
Para más información:
MUSEO DEL PALACIO DE CERVELLÓ
Plaza de Tetuán, 3 (Palacio de Cervelló)
46003 Valencia
Teléfono: 963 525 478 - Ext. 4496
This office does not assume responsibility for sudden changes or variations of the events published on this site.