Antonio Palomino (1655-1726). Dibujos en el Museo de Bellas Artes de Valencia
Sala 1 de la colección permanente
Entrada gratuita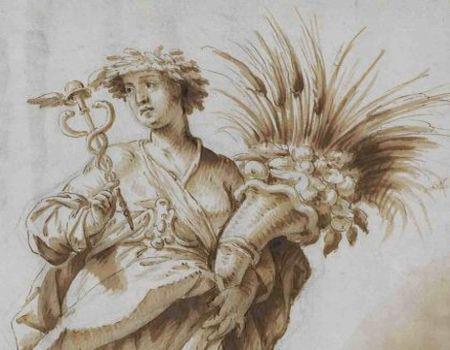 Description:
Actividades culturales
Dates:

Starts: 10/09/2012
Ends: 13/01/2013
Esta exposición tiene como finalidad dar a conocer dos dibujos preparatorios realizados por el pintor y tratadista Acisclo Antonio Palomino de Castro y Velasco (Bujalance, Córdoba, 1655 - Madrid, 1726) para la pintura al fresco de la bóveda de la nave de la iglesia de San Juan del Mercado, obras incorporadas a la colección del Museo de Bellas Artes de Valencia gracias a la adquisición efectuada por el Ministerio de Educación, Cultura y Deporte.
Se trata de los dibujos correspondientes a las figuras alegóricas de La Bondad y La Paz, pintadas al fresco como estatuas fingidas y tocadas de oro, que junto con las de la Caridad, Longanimidad, Benignidad, Fe, Conciencia, Gozo, Paciencia, Mansedumbre, Modestia y Castidad forman el conjunto de los doce frutos del Espíritu Santo que se disponen en la base de la bóveda en los espacios intermedios entre los lunetos, y sobre ellas, sentados sobre un trono de nubes, se distribuyen las figuras de los Apóstoles. En la pintura de la nave desarrolló la descripción de la Jerusalén celestial a partir del relato del Apocalipsis de San Juan (22, 1-3) y del texto de San Mateo (19, 28), en relación con las figuras de los Doce Apóstoles y su correspondencia con los Frutos del Espíritu Santo y los hijos de Jacob o las Tribus de Israel, cuyas efigies escultóricas realizadas por el milanés Jacopo Bertessi adornan los pilares de la iglesia.
La decoración pictórica de la iglesia por Palomino, pintor de Cámara de Carlos II, se inició en 1699 y estuvo terminada con motivo de la festividad de San Juan Bautista de 1701. Palomino comenzó a trabajar en la bóveda del presbiterio donde desarrolló mediante un complejo programa iconográfico La Apoteosis de la Iglesia en torno a la Adoración del Cordero Místico, en la que adquieren un papel protagonista San Juan Bautista y San Juan Evangelista como santos tutelares de la iglesia.
HORARIO
Lunes, de 11.00 a 17.00 hrs.
De martes a domingo, de 10.00 a 19.00 hrs.
Cerrado los días 1 de enero, Viernes Santo y 25 de diciembre
Para más información:
Museo de Bellas Artes de Valencia
C/ San Pío V, nº 9
46010 Valencia

963 870 300
Página web: http://museobellasartesvalencia.gva.es
Correo electrónico: museobellasartesvalencia@gva.es
Para llegar:
Autobuses
Líneas 1, 6, 11, 16, 26, 28, 29, 36, 79 y 95
Metro
Estaciones de Alameda y Pont de Fusta
Valenbisi
Estación nº 131 Alboraya - Flora, estación nº 83 General Elio - Llano del Real y estación nº 5 Plaza Poeta Llorente
This office does not assume responsibility for sudden changes or variations of the events published on this site.