Antonio Augustus. Homenaje a la mujer en el Ivam de Valencia
Antonio Augustus es un maestro de la moda que representa para los portugueses lo mismo que Cristobal Balenciaga significa para los españoles. Una referencia en la Historia de la Moda. Gracias a sus creaciones entramos en un mundo de sueños, arte, talento y técnica.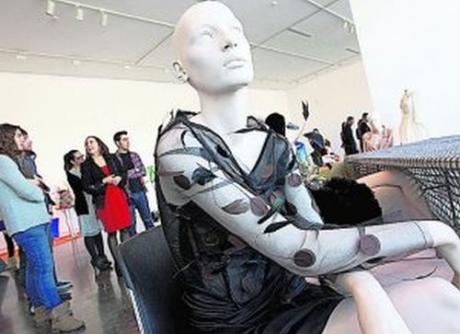 Description:
Actividades culturales
Dates:

Starts: 08/03/2013
Ends: 09/04/2013
Sus influencias cromáticas se deben a Angola, país donde pasó su infancia y juventud, además de sus tiempos de estudiante en las más cosmopolitas ciudades europeas -París y Londres- y también por su espíritu inquieto. Le gusta conocer todo y de ese todo inventar un nuevo lenguaje de la moda, estas o aquellas formas, sus dibujos, sus colores.
Por lo que el discurso expositivo que ha ideado Augustus en el que interviene el espacio con instalaciones se inicia mostrándonos bocetos, fotografías, diseño de joyas y un video que resume su universo creativo así como los diseños de "Chita", tela de algodón típica portuguesa con estampados de rayas claras y oscuras decoradas con abundantes flores, ánforas y pájaros que se utilizaban generalmente para la confección de vestidos y tapizados de muebles durante el siglo XIX y principios del siglo XX.
En esta exposición Homenaje a la Mujer, Augustus aúna tradición, historia, arte y moda. Un universo que precede la instalación de la serie Homenaje a los Descubrimientos con la que Augustus viste el futuro y que nos lleva a la instalación que ha creado invitándonos a la Boda, una celebración que se sitúa como antesala a las colaboraciones que artistas portugueses de reconocido prestigio como Gracinda Candeias, Helena Liz, João Chichorro, João Vieira y Jacinto Luis han realizado pintando a mano los vestidos que se exhiben y que nos adentran en el último espacio en el que, a modo de fin de fiesta, nos presenta una selección de sus diseños.
HORARIO
De martes a domingo, de 10.00 a 19.00 horas.
Lunes cerrado
Para más información:
Instituto Valenciano de Arte Moderno, IVAM
Guillem de Castro, 118
46003 Valencia
Tel: 96 386 30 00
ivam@ivam.es
This office does not assume responsibility for sudden changes or variations of the events published on this site.