After all, tomorrow is another day. Jorge Pineda en el Ivam de Valencia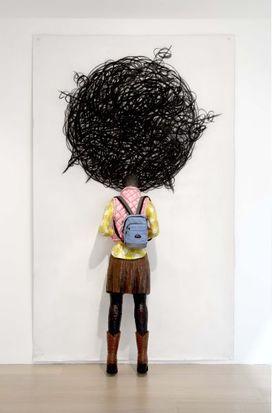 Description:
Actividades culturales
Dates:

Starts: 07/02/2013
Ends: 02/05/2013
La exposición After all, tomorrow is another day del artista Jorge Pineda, Barahona, República Dominicana, 1961, se plantea como una revisión de los últimos siete años de trabajo, desde 2006 a la actualidad, donde se incluyen esculturas, dibujos e instalaciones reflejo de su personal imaginario.
En palabras de Fernando Castro Flórez, sus obras a partir de una referencia conceptual a Latinoamérica y a las contradicciones que el modelo económico neoliberal ha provocado en ella, desde una manifiesta voluntad crítica social pero sin caer en el panfleto ni el torpe literalismo. Desde el racismo a la violencia infantil, de la prostitución a una suerte de simulacro generalizado, Jorge Pineda alegoriza cuestiones candentes de nuestro tiempo. Lejos de una mentalidad sublimatoria pero también consciente de que la tarea del arte no es la de hacer sociología soft, este artista encarna, a la perfección, la problemática glocal, esto es, sus asuntos tienen una raíz territorial muy específica pero, al mismo tiempo, enlazan con lo que pasa en el resto del mundo.
Jorge Pineda estudió arquitectura en la Universidad Autónoma de Santo Domingo entre 1978 y 1981, y litografía en el estudio Bordas de París en 1989. Ha expuesto su trabajo de forma individual en Gijón, Lima, Lyon, Madrid y Santo Domingo y New York, donde en septiembre pasado presentó su proyecto individual Shadows and other Fairy Tale en Hunter College East Harlem Art Galler. Sus obras están en las colecciones del MUSAC, DA2, IVAM, Museo de Arte Moderno de Sant Domingo, Colección Patricia Phelps de Cisneros, entre otras. Ha participado en la Bienal de Venecia, Bienal de Cuenca, Bienal de Lima, Bienal de La Habana, Bienal del Fin del Mundo, en esta última con el grupo Quintapata. Desde 2009 es parte de este colectivo, que hoy lo componen Pascal Meccariello, Raquel Paiewonsky y Belkis Ramírez. Jorge Pineda vive y trabaja entre Santo Domingo y Madrid.

HORARIO
De martes a domingo, de 10.00 a 19.00 horas.
Lunes cerrado.
Para más información:
Instituto Valenciano de Arte Moderno, IVAM
C/ Guillem de Castro, 118
46003 Valencia
Tel: 96 386 30 00
ivam@ivam.es
This office does not assume responsibility for sudden changes or variations of the events published on this site.