30 Años de Escalante
MuVIM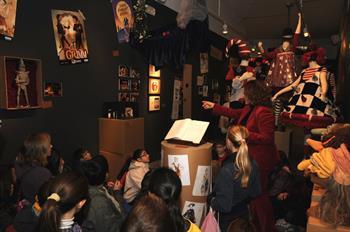 Description:
Actividades culturales
Dates:

Starts: 23/12/2014
Ends: 22/03/2015
30 años de teatro para niñ@s. 30 años de profesionales valencianos. 30 años de técnicas teatrales. 30 años de teatro clásico, danza y ópera. 30 años de títeres y clowns. 30 años de musicales y teatro corporal. 30 años de textos universales y magia. 30 años de Escalante Centre Teatral.
Por el Escalante han pasado cientos de profesionales valencianos. Autores, actores, directores, compositores, escenógrafos, figurinistas, caracterizadores, técnicos, ilustradores… desde las caras más célebres y otras más acostumbradas a trabajar en la oscuridad de las bambalinas…
Esta exposición interactiva, este proyecto dinámico, esta propuesta pedagógica, propone un recorrido por las producciones teatrales del Escalante que nos acercará a los cientos de profesionales que han trabajado año tras año en este centro cargado de historia.
Escalante centre Teatral ha producido 42 espectáculos desde 1985. Estos 30 años de trabajo con los mejores profesionales del gremio, han generado decenas de escenografías de gran formato, cientos de vestuarios y miles de objetos de atrezzo y utilería. Todos estos elementos están luchando por salir de nuestros almacenes y exhibirse al público.
Los títeres de Pinocho, Alicia, Tirant lo Blanc, Gulliver y muchos otros personajes se agolpan contra las paredes de sus baúles, reclamando volver a ver la luz.
El archivo fotográfico y videográfico del centro nos permite recordar a todos aquellos actores, directores y demás artistas de la bohemia valenciana que, desde los años 80 plantaron las raíces que permitirían crear y mantener este centro. Algunos ya no se encuentran entre nosotros. Sus fotos nos permitirán rendirles un merecido homenaje.
Grandes artistas e ilustradores han puesto su talento a trabajar para ilustrar carteles, folletos, libros e incluso algunas escenografías. La exposición mostrará los trabajos originales que Miguel Calatayud, Paco Bascuñán, Paco Santana, Enric Solbes, Mique Beltrán, Alexandre Soler, Sento, Jordi Ballester, Pablo Prestifilippo, Gianni Franceschini O Pep Sellés entre otros.
A lo largo de estos 30 años, el centro ha sido reconocido con numerosos premios entre los que se encuentran la Medalla del Plata al Mérito de las Bellas Artes del Ministerio de Cultura, el Halcón Maltés de la Cartelera Turia, el premio Importante del diario Levante, varios premios Max, Premis de les Arts Escèniques de la Generalitat de València y premios de la asociación de críticos, AVETID, FETEN y ASSITEJ.
Estos objetos, y muchos otros se exhibirán en esta gran exposición que repasará 30 años de trayectoria de este centro de la Diputación de Valencia.
Information compiled by:
TOURIST INFO VALENCIA - PAZ
Calle Paz, 48
46003 Valencia
Phone: 963986422
Fax: 963986421
Email: valencia@touristinfo.net
This office does not assume responsibility for sudden changes or variations of the events published on this site.