15K, Valencia abierta al mar
Gran fondo 15K Valencia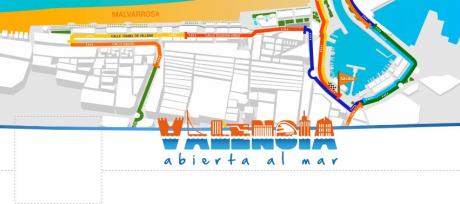 Description:
Actividades de ocio
Type: Deportes
Dates:

Starts: 15/02/2013
Ends: 17/02/2013

Sólo faltaba "ella". La única carrera que no se había hecho un hueco en ese enorme abanico que es el calendario de la ciudad de Valencia era un gran fondo, un 15K Valencia, una prueba de 15 kilómetros por los lugares más emblemáticos de la ciudad. Pero en 2013 ya habrá espacio para ella y Valencia acogerá, por primera vez, una carrera en ruta sobre esta distancia.
La prueba, denominada 15K Valencia abierta al mar, se disputará la mañana del 17 de febrero. Ese día celebra su cumpleaños José Antonio Redolat, uno de los mejores deportistas que ha dado esta tierra, un mediofondista dotado con una clase excepcional. El atleta, elegido para apadrinar la carrera, se estrenó ayer en su nueva función al representar la prueba en la gala de las carreras populares que se desarrolló en La Petxina.
El plazo de inscripción para esta carrera inédita en la historia reciente de la ciudad se abrirá el 2 de enero y concluirá unos días antes del tercer domingo de febrero, el día 17, la fecha elegida para esta primera edición del 15K Valencia abierta al mar.
Redolat, campeón de Europa de 1.500 hace ya casi 13 años, recibió con agrado el nacimiento de una nueva carrera en su ciudad. La distancia, los 15 kilómetros, se antojan como un reto asequible para la infinidad de corredores que cada día pueblan los caminos y jardines de la Comunitat. La prueba, además, se celebrará un mes después del 10K Divina Pastora, lo que se convertirá en un aliciente para los que debuten en la distancia inferior. La capital ya cuenta, gracias al 15K Valencia abierta al mar, con todos los escalones para alcanzar la prueba cumbre que anhela todo corredor, el maratón.
EVENTOS PARALELOS
En la base del Luna Rossa se ubicará también la Feria del Ocio Náutico que contará entre otras iniciativas con una escuela de vela, junto con numerosas actividades fuera del recinto, junto al mar (viaje en catamarán, bautismos de agua, etc..) Se podrá visitar la exposición fotográfica "Valencia abierta al mar", con espectaculares imágenes en las que se apreciará la evolución histórica de la ciudad.

Además en el mismo recinto portuario habrá actuaciones de las bandas de música del distrito Marítimo. El viernes las interpretaciones musicales comenzarán a las 19:30 horas mientras el sábado y domingo amenizarán la mañana desde las 11:30.

Junto a todo ello, en el hangar paralelo se celebrará la Feria Marina, con una fabulosa exposición interactiva sobre la investigación oceanográfica en los fondos de la Comunidad Valenciana.
PARA MÁS INFORMACIÓN:
http://www.15kvalencia.com/
This office does not assume responsibility for sudden changes or variations of the events published on this site.