Cuerpo Romo. Danza en la Calle Torrevieja
Danza Contemporánea
La danza contemporánea inundará las calles de Torrevieja los días 2,3 y 4 de septiembre con el festival itinerante "Cuerpo Romo". Para más información e inscripciones visitar facebook (https://www.facebook.com/cuerporomo/).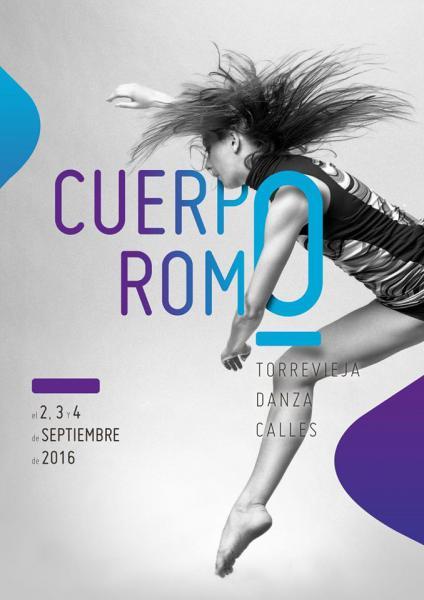 Description:
Actividades culturales
Dates:

Starts: 02/09/2016
Ends: 04/09/2016
Address:
Centro Cultural Virgen del Carmen
City: Torrevieja
Web:
Organizado por la compañía SNEO, del bailarín y coreógrafo Elías Aguirre, junto al ayuntamiento de Torrevieja y el Instituto Municipal de Cultura Joaquín Chaprapieta, este festival cuenta con la producción ejecutiva de Mayda Álvarez -miembro de SNEO- y busca "acercar la danza al públic desvelando todo su potencial en las calles de la ciudad".
Entres las distintas
actividades
programadas hay actuaciones de danza contemporánea, encuentros entre profesionales, diversos talleres, muestras de vídeo-danza e intervenciones artísticas de la mano de "consolidadas compañías, profesionales del sector y de las artes escénicas que se han sumado al proyecto".
La formación también es una parte de este festival y, por ello, durante estos tres días se celebrarán tres talleres de danza contemporánea -uno de iniciación con Ruth Muelas y dos de nivel-medio avanzado con Pedro Berdayes y Nicolas Ricchini- y un cuarto de fotografía e intervención artística impartido por Elías Aguirre.
'Cuerpo Romo' confirma así su "carácter de festival itinerante demostrando la versatilidad de la danza y su capacidad para favorecer sinergias entre ciudadanos, espacios, público y profesionales", según los organizadores.
El fin es acercar la danza contemporánea a niños, adolescentes y adultos, estimular su visibilidad, dar a conocer sus beneficiosos valores, generar diálogo, participación y encuentro entre profesionales, semiprofesionales y amateurs, para lo cual será gratuito en plazas, calles y playas de la ciudad de Torrevieja.
A través de este proyecto, cuyo nombre hace alusión al desgaste que sufre el cuerpo en contacto con el suelo, cuerpo e imagen darán luz y movimiento a las calles torrevejenses durante tres días con una agenda donde la danza "será la protagonista", aunque con la capacidad de "enriquecerse de otras artes y retroalimentarlas".
El bailarín de danza contemporánea encuentra un espacio "único" en la calle y también su público, "poco acostumbrado a disfrutar del arte fuera de los circuitos convencionales".
Hasta el momento han confirmado su participación en este festival Francisco Cordova Azuela, de 'Physical Momentum Project'; Lali Ayguade Company; HURyCAN; la compañía Daniel Abreu; Asun Noales de 'La Otra Danza; Chey Jurado Giles, Diego Sinniger o Laura Kumin y también 'Ed is Dead'.
Compañías y profesionales de nivel nacional se han sumado a esta iniciativa demostrando así que la "danza contemporánea en España no sólo está viva sino que se mantiene fuerte y unida"
This office does not assume responsibility for sudden changes or variations of the events published on this site.