Bike, cellar or climbing up the Bartolo
Publishing date 1/12/2014
If you are fit and you want to have fun, we have two different proposals for you this weekend in Castellón. The first is climbing up the Bartolo, the highest peak of the Desert de les Palmes; and the second one is an itinerary by bike or burricleta through the wine route.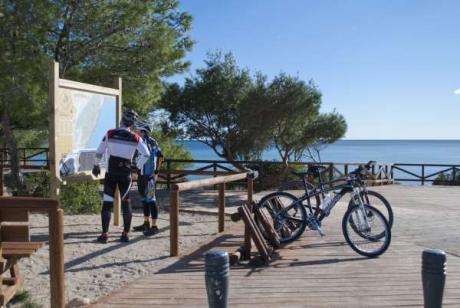 On the 11th of December, the International Mountain Day is celebrated and to commemorate it, the Natural Park of the Desert de les Palmes has organized on the previous Sunday, December the 7th, a climb to the highest and most representative peak of the park, the Bartolo. The ascent starts from the information center of the Natural Park. Once there, the group will be photographed to include the picture in the social networks, where the snapshots of all those in the world who have climbed a mountain that day will be collected. Get ready and come to celebrate this day with us! (Pre-registration: +34 964 760 727 or paratge_desert@gva.es).


If you prefer the bike, our second proposal is to participate in the Wine Route on December the 6th, organized by the campsite Torrenostra in Torreblanca, where the BTT Center Costa Azahar is located. The route starts in the BTT Center and goes up to the Bodega Mas de Rander cellar in Benlloch, with the possibility of renting a burricleta (a electrical rural bike), riding a mountain bike or your own bike. Besides, the BTT Centre proposes you four different options, ranging from a simple excursion to more complete tours with food and even accommodation included. Information and reservations by Phone: +34 964 425 037 or by E-mail:campingtorrenostra@gmail.com).