Art in the walls of Torreblanca
Publishing date 27/07/2017
The neo-muralism spreads all over the streets of Torreblanca, who shows proudly the work of contemporary artists. Do you fancy it? This can be a very original plan; one cannot visit every day a museum of urban art in the open air.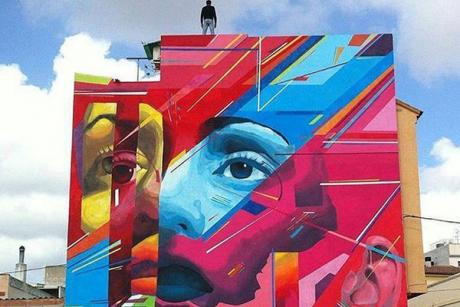 Torreblanca (Castellón) is waiting for us with a lot of walls taken by urban artists. This is so that we can consider it like a museum of urban art in the open air. Note down on your journal the route to follow: streets Aljub, La Torre, Manrique de Lara y square Jaume I de Torreblanca. And do not forget the local trinquet (court to play ball), already involved in the first phase of the Citric project. And even the moment you are reading this, there may be more walls in process since the people of the municipality are offering their own walls to be included.

The artists who have taken part in the contest of urban art Citric are San, Spok, Xèlon, Isaac Mahow, Dulk, Sebas Velasco, Pincho, Laguna, Sabek, SRG, Uriginal, Kenor, DEIH, Emilio Cerezo and Hombre López. All of them have been forced to leave their work routine and take a risk turn knowing that their work is becoming a tourist destination. The ideas have been born from the inspiration, without a design and integrating the piece of art with the surroundings where they are painted. Pieces of space rubbish, the degradation of the planet, interferences, matter and essence shared with the universe. Enjoy the experience to see all graffiti together, it will be fantastic!
The visit to Torreblanca has to include in any case a short visit to the beach of Torrenostra and to the Parque Natural del Prat, two big appeals in this municipality of Castellón. Take a look out from the viewpoints from where you can watch the waters of this small albufera of swamps and marshes.