Titaguas, a night by the candlelight
Publishing date 27/07/2015
By nightfall on Saturday, August 1, a thousand candles will illuminate the houses and streets of Titaguas and several music concerts will be performed in every corner. If you like to be surrounded by beauty, you are an incurable romantic, or just want to spend a different night, come and discover Titaguas by the candlelight.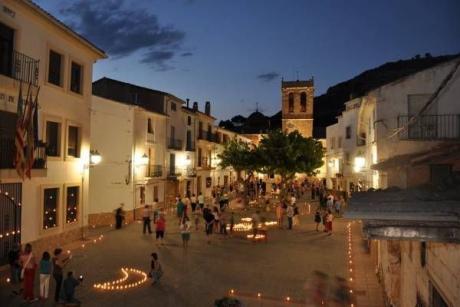 Since 2013, Titaguas celebrates the Candle Night on the first Saturday of August. A magical party, where the public night lighting gives way to soft and warmth lighting coming from thousands of candles in the streets, windows and balconies. The candle light creates a suggestive and evocative environment and provides a framework for musical performances in the most beautiful corners of the villa.

During morning and afternoon, come and meet the town through activities such as the Hidden Titaguas guided tour, horseback riding, -Kangoo rebound jumps, or 3D Universe in the Cosmophysics School. In addition, the Museum features two exhibitions, one on Traditional Schools and the second one on the pictures winners of previous and current contests of Fast Painting.

To keep energetic up to the night, you may take part in the "Tapas Route" organized by Titaguas bars, where you can taste a draft beer and a tapa for only €2.

By nightfall, the candles previously placed in the afternoon will be lighted up. To accompany the lights, mini-concerts will be carried out and photographs projected during the tour. These concerts are of different musical themes, such as folktale and folk music, jazz, classical music, piano and vocal duo, pop, brass, cello, guitar, and flute duo. All this together creates a warm and magical atmosphere that visitors can not forget.