Festivities in Teulada, Intangible Cultural Heritage
Publishing date 13/09/2017
September gives us more opportunities to rejoice. From 22nd to 24th September Teulada dresses up again for the festivities of the Divina Pastora. You cannot miss such a festivity, declared Intangible Cultural Heritage.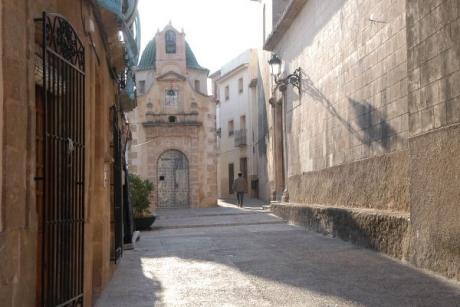 We're going party! Music, the entrance of the Murta, planting of the Poplar, folk songs and dances, ornamentation of the streets, game of pilota, and a great number of acts in a celebration with an important historic background. The origins of the Fiestas de la Divina Pastora go back to the 18th century, at the moment of splendour of the brotherhood who was responsible of the funeral rites in the Hermitage of the Divina Pastora and who once a year hold a feast with the alms collected.

The festivities in Teulada display all the typical features of the traditional festivals in Valencia. Some few years ago, actions started to recover the traditional aspects and to improve the festivities. As an example, poplars are no longer cut down, they are transplanted, and then planted back. Everything is done in the same environment which has made it possible to reforest the area of La Font de l'Horta, emblematic landmark of the municipality of Teulada.

Touristic interest has to be drawn to the chapel of the Divina Pastora, dating from the 17th century, located next to the parish church of Santa Catalina, forming a beautiful background of perspective of the calle de Dalt. As a sacred place, it had a function associated with the burials and it could well be the prelude of the cemetery which was next to the church.
And to complete your experience in Teulada – Moraira, we suggest you visit some beautiful natural spaces: El Cap d'Or, La Cova de les Rates, La Marjal del Senillar, La Solana de Canor, La Serra Cel·letes and La Vall de Les Sorts.