Santa María de la Valldigna, a heavenly path
Publishing date 24/03/2014
Santa María de la Valldigna, a Cistercian monastery located in a valley of the old region of Safor, formerly known as Alfàndec, will allow visitors to follow a heavenly path through its cloisters and rooms in the month of March in the context of the celebration of its founding in 1298. The path through this monastic universe conjures images of the sublime reality of a coenobitic community that sustained the inhabitants of the valley for 600 years, affecting their lives and even their deaths. Today, over seven centuries after its founding, you will be able to enjoy visits, activities and expositions.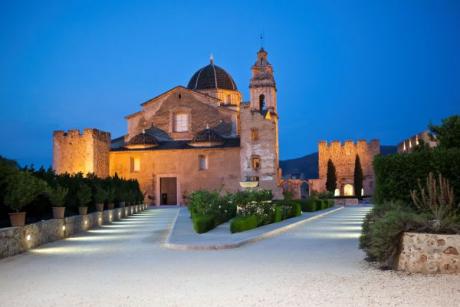 The founding of the monastery of Santa María de la Valldigna by Jaume II el Just (James II, the fair) is being commemorated in the month of March. The exposition Restaura, recuperando nuestro patrimonio (Restaura, recovering our heritage) highlights the recovery of the heritage of the monastery, one of the most significant endeavours of this kind in the Valencia Region, as well as a selection of pieces found in different archaeological digs. The Jaume el Just Foundation, in charge of managing the monastery, offers a wide range of options to visit the monastery, ranging form guided tours to theatrical visits or visits for children.

The Royal Monastery of Santa María de la Valldigna was founded by king Jaume II the Just in 1298, and it was inhabited by Cistercian monks until 1835, at the time of the Mendizábal land seizures (desamortización).

A visit to the monastery allows you to discover an extraordinarily beautiful valley that contains villages such as Bárig, Benifairó de la Valldigna, Simat de la Valldigna and Tavernes de la Valldigna, all of which are close to the Mediterranean, whose breeze provides them with a temperate climate in summer and winter alike. The nearby coast provides visitors with other options for entertainment, such as the endless sand beaches of La Goleta and Tavernes.