Segorbe, Fourth Contest of Olla Segorbina
Publishing date 29/12/2015
During the month of January you will learn the traditions of the historic town of Segorbe, this time, through gastronomy. From 9 to 31 January, the fourth edition of the Gastronomic Olla Segorbina Contest will take place. Nine restaurants in the locality will prepare luxurious menus to taste the most typical dish of the main town of the Alto Palancia region, the "Olla Segorbina".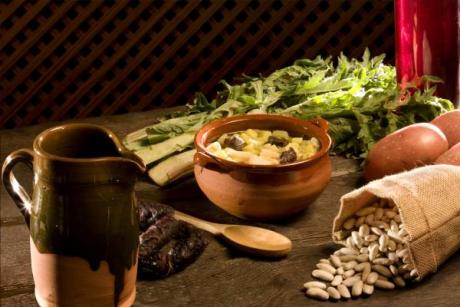 Although Olla menas "pot", a traditional cooking utensil, in Segorbe, as in Valencia and other Spanish regions, the "pot" or "small pot" (olla or olleta) are stews and cooked foods that are made with legumes, vegetables, rice, meat, bones, sausages... This is a dish cooked in Segorbe dwellings mainly during the colder months. The tendency to recover the traditional cuisine and get a good value for money is giving traditional stetws and casseroles a renewed fame. Segorbe has a rich and varied cuisine, and a proof of this are the various events dedicated to this art which take place throughout the year, but this time the main player is the traditional "Olla". The menu will be completed with other dishes of traditional or avant-garde cuisine in the style of each restaurant, and the price is 20 euros in all cases.

Complete your stay in Segorbe with guided tours organized for the event. Sundays 10, 17, 24 and 31 January at 10:30 am, a guided tour "Complete Segorbe" takes place, where 7 museums of the town are visited with an official guide of the Valencia Region. The price per person is 10 € and it is advisable to make reservation by calling 964 71 32 54.