The most beautiful night in Segorbe
Publishing date 15/12/2014
The Garcerán House in Segorbe holds an exhibition named The most beautiful night, a cultural proposal that can be visited until January the 11th which shows the environment of the town, featuring its celebrations, festivals and traditions.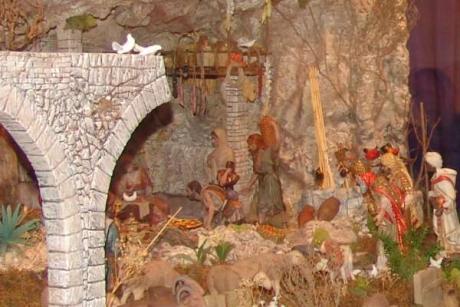 The exhibition is divided into two different parts. On the first floor, a vision of Christmas in the town of Segorbe is offered by means of a selection of photographs, costume pieces of Nativity Scenes, nativity cutouts, musical instruments, card games, lottery tickets and a collection of Christmas ads from the 50s until today.

On the second floor, different crib and nativity scenes donated by citizens of the town of Segorbe, among which the winner scene of 2013 in the nineteenth Contest of Crib Scenes of Segorbe is exposed. An iconographic group of pieces representing a Christmas tradition followed at home and in schools, shops, churches and institutions in the capital of Alto Palencia. In addition, three artworks on Christmas provided by the Cathedral of Segorbe and the Community of Tertiary Capuchin Sisters of Segorbe are included.

With the aim of contributing through culture to social development, the entrance ticket has been fixe in the amount of two euros which will allow a broad access to the exhibition. The total amount collected will be dedicated entirely to the solidarity work done by the NGO Manos Unidas Segorbe- Alto Palencia in India, specifically in the town of Dindigul.

The exhibition can be visited in Garcerán Segorbe House on Friday, Saturday and eve of public holidays from 17:00-20:00 and on Sundays and holidays from 12:00 to 13:30 and 17:00-20:00.