Everything ready for the Segorbe Bulls and Horses Entrance
Publishing date 5/09/2016
The capital of the Alto Palancia prepares itself for an almost magical week, declared of International Tourist Interest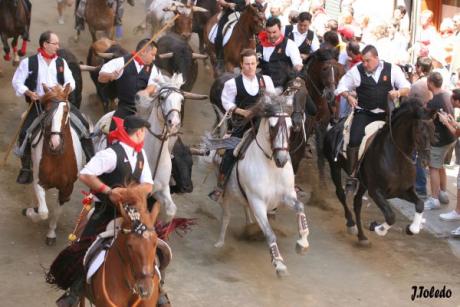 An almost magical show. The feeling of the crowd waiting in the Columbus street. The sound of bells. The speed of the horses and bulls. As every year, Segorbe celebrates during the second week of September the Bulls and Horses Entrance, Fiesta of International Tourist Interest and one of those celebrations highlighted on the festival calendar of Valencia.
You should not miss from Monday to Sunday, every day at 2 p.m , the course of the 13 riders who, astride their horses and provided only by a thin rod they guide six bulls in the middle of a very crowded Colón. The cheers and applause from the crowd mark the synchronized movement of a show that creates impossible spaces where there were none before and allows segorbinos and visitors to experience unique moments in life.
Taurine week is an excellent opportunity to discover Segorbe, a city of rich medieval heritage and gastronomy to be enjoyed. In fact, coinciding with these big days, the Ham and Artisan Sausage Fair and also Tapa Fair are held, where typical tapas are offered to host the large number of visitors who enjoy the Entrance of Bulls and Horses.