Bulls and horses in Segorbe, pure show
Publishing date 31/07/2017
The main festivity in Segorbe is the spectacular Entrada de Toros y Caballos (Bull and Horse Droving), declared Festival of International Tourist Interest and Masterpiece of Intangigle Cultural Heritage. A unique exhibition which you can enjoy from 4th to 10th September, from Monday until Sunday, always at two o'clock in the afternoon. Now you know it, note it down.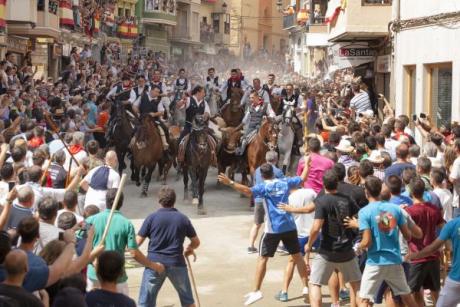 Segorbe is an open door. So welcome to a party, the Entrada de Toros y Caballos, this will not leave you indifferent. 13 horsemen, riding their horses and carrying of a thin brass stick, guide 6 bulls along Colón Street. They go at full speed, among the crowd which opens and closes the way of the herd similar to the movement of a bank of fishes creating an impossible space; and as a mirage, in hardly tenths of a second, this allows the magic of a unique world show to happen once again.

Do not miss the return of the horsemen to the square de los Mesones, reversing the route, and the close clapping which accompanies the quiet ride back. Tradition and beauty.
Visiting a place is always discovering a different way to see the world. Segorbe is much more than a simple place. It is a gathering of feelings, of life experiences, of landscapes; of histories designed by the space it has and by the history which from the Prehistorical Age has been written by the people who have lived in this territory.

Segorbe keeps alive a rich handmade tradition, the well-known workshops of cane building and ceramics are to be mentioned. Complete your route with a visit to the Fuente de los 50 Caños, the Glorieta, the Paseo de Sopeña, the Parque Natural in Sierra de Espadán or even that in Sierra Calderona.

Dress code: Scarf, walking stick and summer clothes. We will be here waiting for you!