XII Ciberia Lan Party de Segorbe
La Ciberia Lan Party llega a su edición número 12. Desde el viernes 30 de septiembre hasta el 2 de octubre, en horario ininterrumpido, aficionados a la informática y los videojuegos se reunirán en la Casa de la Cultura de Segorbe para disfrutar y compartir su afición todos juntos, con la idea de hacer nuevos amigos con gustos similares y sobre todo pasarlo muy bien.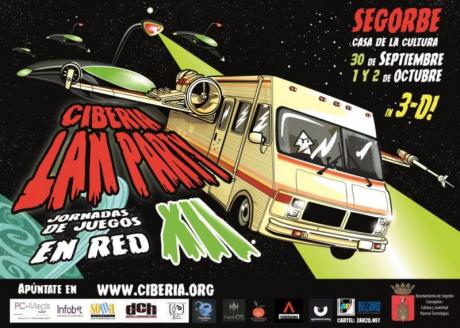 Description:
Actividades culturales
Dates:

Starts: 30/09/2016
Ends: 02/10/2016
"El evento sigue con la idea de ser un lugar común para aficionados y amantes de las nuevas tecnologías tanto del Alto Palancia como de sus alrededores (en ediciones anteriores ha habido participantes de Bilbao, Barcelona o Murcia)", ha explicado el organizador de la Ciberia Lan Party, Rafa Torres. Para ello, también se realizan una serie de talleres o charlas dadas por profesionales que permiten conocer mejor nuevas tecnologías, crear desarrollos propios y, sobre todo, aprender cosas nuevas. Las charlas están abiertas a todo el que quiera conocer algo nuevo, no están cerradas solo a los participantes inscritos.
Este año contamos con varias propuestas:
– Devscola, una escuela de programación sin ánimo de lucro en Valencia, organizará lo que se denomina un 'hackatón' de desarrollo de tu propio videojuego. Durante todo el sábado y en pequeños equipos, se realizará un videojuego con las herramientas que la escuela propone, dando una pequeña formación de cómo se realiza, para poder ver que plasmar las primeras ideas no es tan complicado.
– Miguel Chover, segorbino y vicedirector en la UJI del Grado en Diseño y Desarrollo en Videojuegos, realizará el sábado a las 18h una charla donde hablará sobre Unity3d, motor gráfico para el desarrollo de videojuegos. También hablará del Grado de la UJI, para quienes quieran informarse sobre el mismo.
– Hackspace Valencia también desarrollará su propio hackatón, pero ellos prefieren llamarlo 'stupid hackaton', por permitir darle forma a toda clase de ideas inútiles y absurdas. Cualquier soporte es válido: cartulina, queso, píxeles…
"Esperamos poder contar como los últimos años con cosas tan divertidas como las impresoras 3D y las innovaciones que nuestros participantes y amigos quieran acercarnos", ha indicado Torres.
Al mismo tiempo, y en su parte más lúdica, se desarrollan torneos y campeonatos para conseguir alguno de los premios que los colaboradores han cedido al evento, siempre desde un toque de respeto al rival y donde está asegurado el pasarlo muy bien.
Os esperamos en la Ciberia Lan Party 2016: http://ciberia.org
This office does not assume responsibility for sudden changes or variations of the events published on this site.