Feria de la Purísima en Segorbe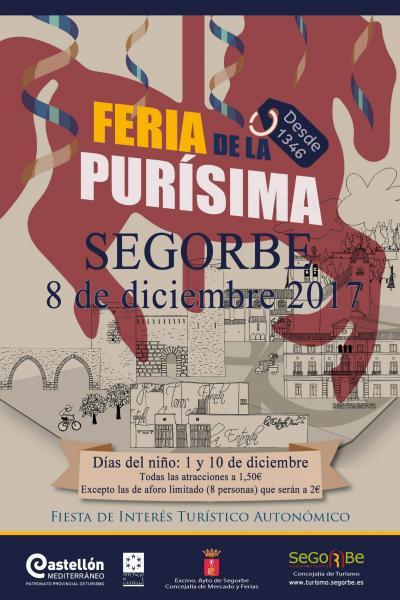 Description:
Grandes eventos
Dates:

Starts: 08/12/2017
Ends: 08/12/2017
Aunque el día 8 de diciembre es el día grande (donde más puestos se concentran), alrededor de dicho día también puede disfrutar de la Feria (menos cantidad de puestos y solo desde la Avd. España y zona ciudad deportiva).
Horario: De 10:00 a 22:00 horas.
– Lugar: la plaza del Ayuntamiento, calle Marcelino Blasco, avenida Fray Luís Amigo, Avd. España, zona ciudad deportiva: calle Vall d´Uxó, calle Soneja y calles adyacentes.
Feria donde los artesanos del Alto Palancia exponen sus productos y donde también se instalan atracciones feriales y tómbolas.
En la Feria de la Purísima se puede encontrar ropa, bolsos, libros, artesanía, objetos de decoración, gastronomía, juguetes.
Los orígenes de esta feria se remontan al privilegio otorgado en el siglo XIV por el rey Pedro IV el Ceremonioso, que amplió la concesión de día de mercado extraordinario que, a finales del siglo XIII, concedió el rey Jaime I.
Alrededor de 30.000 visitantes acuden cada año a Segorbe para no perderse esta feria, ¡te esperamos!
Días del niño: 1 y 10 de diciembre. Todas las atracciones a 1,50€, excepto las de aforo limitado (8 personas) que serán a 2€.
This office does not assume responsibility for sudden changes or variations of the events published on this site.