Ciberia Land Party en Segorbe
Jornadas de juegos en Red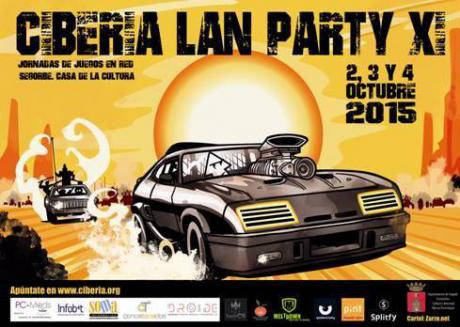 Description:
Actividades culturales
Dates:

Starts: 02/10/2015
Ends: 04/10/2015
Viernes 2 de octubre
- A las 12:00h. – Apertura de puertas y entrada de los participantes.
- A las 12:00h. – Inauguración del evento.
Sábado 3 de octubre
Durante el día se podrá ver todo lo que los amigos de HackCS y HackersSpace Valencia hayan traído, además de disfrutar y conocer la pista de Nerdy Derby que estos últimos instalarán. No olvides traer tu pequeño.
Sin horario confirmado todavía tenemos que la Agrupación Fotográfica de Segorbe realizará una mesa redonda donde hablarán y expondrán las apps para dispositivos móviles que usan los fotógrafos de la AFS más allá de instagram y similares.
- A las 16:15h. – Charla de Santi Navarro, presidente de Wikimedia España.
Wikimedia Commons, el respositorio de archivos libres de Wikimedia
- A las 17:00h. hasta las 19:00h.
Droide Comunidad realizará una exhibición de robótica educativa para todos los niveles donde podrás ver:

– Robots de verdad como el Lego Mindstorms, Darwin, mi primer kit de robótica de bq.

– Impresoras 3D.

– Música con frutas y plastelina.

– Pleo, nuestra mascota robot.

– Programación con scratch y arduino.
Ven y conoce Gamesonomy, la aplicación web con la que puedes crear tus propios videojuegos de forma gratuíta. Conoce los cursos que su equipo imparte en distintos colegios y algunos de los juegos realizados en colegios de la zona por los propios alumnos.
Y si quieres avanzar todavía más en este mundillo, Miguel Chover, director del Grado de Videojuegos impartido en la Univeridad Jaime I de Castellón, contestará a todas las preguntas que quieras realizarle sobre el mismo y las dudas que tengas.
A lo largo del día y según el número de participantes, se realizará el torneo de League of Legends que está organizando Jabatopi. Dentro de poco os daremos los últimos avances sobre el mismo, del que aún no hemos desvelado nada a la espera de poder confirmar todo lo que tenemos preparado. Sí podemos confirmar que el equipo ganador del torneo conseguirá entradas gratuitas para la Vilanet que se celebra en Villarreal el 8, 9, 10 y 11 de octubre. Además el torneo puntuará en la clasificación mensual del Meltdown de Valencia, donde además los que disputen la final podrán disfrutar de un chupito gratis.
Blizzard también ha querido unirse con Hearthstone y sus 'torneos bajo el fuego', dando unos códigos para que repartamos sobres entre los que compitan en un pequeño torneo que organizaremos. También podréis conseguir el dorso especial para los que compiten en la misma red.
Domingo 4 de octubre
- A las 13:00h. – Como última charla tenemos a Javu, de vintagenarios, que realizará una charla sobre la creación y nacimiento del IBM PC.
- A las 16:00h. – Cierre de puertas.
This office does not assume responsibility for sudden changes or variations of the events published on this site.