The Santa Pola - Tabarca Swimming Race, pushing the boundaries of excitement
For the nineteenth year in a row, Santa Pola and Tabarca will host the only Spanish swimming race whose path goes from an island to the mainland. This 5900-metre long competition has once again attracted a thousand swimmers both from Spain and abroad.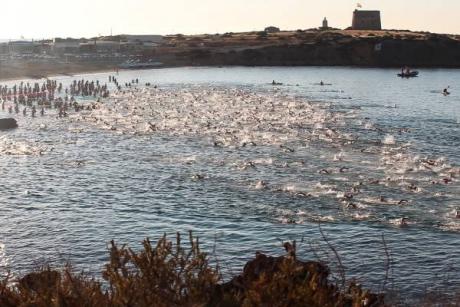 We highly recommend that you enjoy this breathtaking spectacle and this small nook of the Mediterranean. Santa Pola is the closest point on the mainland to Tabarca, the only inhabited island in the Valencia Region.
To visit Tabarca is a way to pay homage to a Mediterranean enclave that has been a source of inspiration for many an artist. Here you may enjoy coves and beaches with clear waters and a picturesque seafaring harbour, with an excellent offer of restaurants in which you may sample the traditional caldero, the typical local dish of the island.
Whether you choose to visit Santa Pola or Tabarca, do not miss this race on Sunday, July 6, in which a thousand swimmers will depart from the island to the Varadero beach, ready to overcome their fears and enjoy the Costa Blanca. Do not miss this haven of crystal-clear waters!