Visitas Guiadas en Santa Pola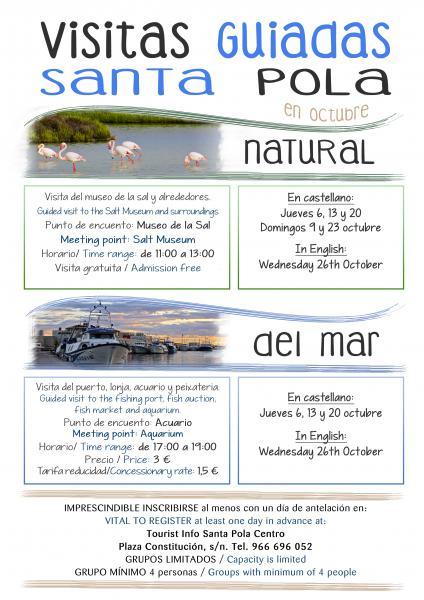 Description:
Grandes eventos
Dates:

Starts: 01/10/2016
Ends: 01/11/2016
Ser puerto de mar ha condicionado la vida de los hombres y las mujeres que a lo largo de los tiempos han vivido en Santa Pola. Esta es una historia que merece la pena ser contada. Con este objetivo, desde Turismo Santa Pola hemos preparado las siguientes visitas guiadas con el fin de recrear el pasado y el presente de una cultura marítima Mediterránea dotada de personalidad propia en torno a la bahía de Santa Pola.
Durante el mes de agosto te proponemos dos rutas diferentes que puedes vivir como prefieras, de forma individual o conjunta ¿te animas?.

RUTA NATURAL. Visita al Museo de la Sal y las lagunas adyacentes del Parque Natural.

Visita guiada gratuita
Horario: de 11:00 a 13:00 horas.
Punto de encuentro: Museo de la Sal
En castellano:
Jueves 4 y 25 de agosto
Domingo 21 de agosto
En inglés:
Jueves 11 agosto
En francés:
Jueves 18 agosto

RUTA DEL MAR. Visita del Puerto, la Lonja, el Acuario y la Peixateria.
Precio de la visita guiada: adultos 3€ / precio reducido 1,5 €
Horario: de 18:00 a 20:00 horas.
Punto de encuentro: El Acuario Municipal
En castellano:
Martes 2, 9, 16 y 23 agosto
Jueves 4 y 25 agosto
En inglés:
Jueves 11 de agosto
En francés:
Jueves 18 de agosto

Imprescindible inscribirse con al menos un día de antelación en:
Tourist Info Santa Pola Centro
Plaza Constitución, s/n. Tel. 96 669 60 52
Grupos limitados.
Grupo mínimo: 4 personas

*Tarifa reducida: si tienes entre 5 y 16 años, eres estudiante, perceptor de una pensión, titular del carné joven, miembro de familia numerosa o persona con una discapacidad acreditada.
Information compiled by:
TOURIST INFO SANTA POLA - CENTRO (eng)
Plaza Constitución, s/n, s/n
03130 Alicante
Phone: 966696052
Fax: 966696039
This office does not assume responsibility for sudden changes or variations of the events published on this site.